While perusing the Park's Edge menu, we inquired about the grilled peach and burrata salad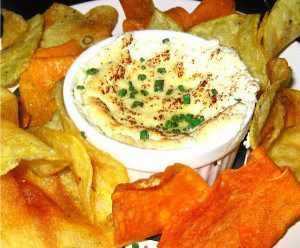 we had seen on the website. Our waitress mentioned that peaches were out of season. She wrote down our order, hesitated a moment and added, the burrata was out of season, too.
We held our laughter until she walked away, knowing that she had no idea what she was talking about. Burrata isn't seasonal, it's just a fresh cheese made form mozzarella and cream. That was the first of her many faux pas.
We chose a bottle of an Argentinian Los Cardos Malbec ($36) and then started with roasted garlic bulbs ($3) that spread heavenly onto the bread.  The root vegetable chips with the vat of creamy ricotta, chevre and truffle dip were too soggy for me, yet my dining companions really enjoyed them. I preferred scooping up the rich dip with the toast crisps from the mussels. Those succulent bivalves were in a white wine sauce ($10) with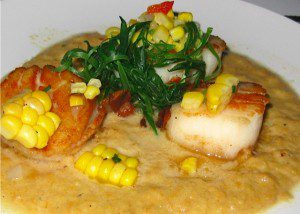 bits of peppered bacon, diced tomato and a soupçon of creme fraiche.
The only partial miss was the pan seared scallops ($12), as the kitchen slightly overcooked them and used too much of the sweet corn sauce. I did like the flavor of the chunks of fresh corn in said sauce.
We also had a juicy burger ($12) topped with caramelized onions and cheddar cheese along with herb fries.
With our table full of empty plates, chef Jorge I. Pacheco stopped by to introduce himself.  We liked that and avoided sharing with him all of our waitresses' gaffes, as we had already asked for the bill.  He ended up bussing the dirty dishes, which certainly says something about the service as well as the chef's dedication to his restaurant!
When our bill arrived, the waitress had circled the actual amount of the meal before she had subtracted the coupon we had given her. She wanted to be certain we realized we were to tip on that amount, not the reduced one. If that weren't rude enough, she also hand-wrote that pre-discount total onto the credit card receipt!
All in all a very pleasant dining experience, only subtly put out by slightly inept service.
– bonnie
Follow @BonnieBOTB
Park's Edge
913 Bernina Avenue N.E.
Atlanta, GA 30307
(404) 584-7275
parksedgeatl.com