Consider taking a day off of the slopes when in the Park City (UT) area to learn some of the history of Main Street while tasting the fare of several restaurants. Local resident Shirin Spangenberg hosts Park City Food Tours where you'll hear how the town has gone from mining to dining — of course, sampling some goodies — while walking down the picturesque historic Main Street. If you're tired from your day's activities, there is a free trolley to take you back up the street.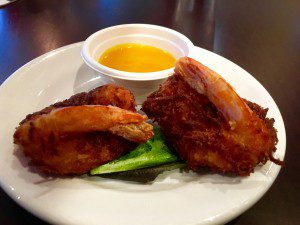 When I took the tour this fall (prices vary seasonally),  we stopped at the below mentioned places for a nibble. The locations change often and are not disclosed before the tour. Tours run year-round and change with the season
Wasatch Brew Pub
Park City
250 Main St
Park City, UT 84060
(435) 649-0900
Owner Greg Schirf, owner of Utah's first microbrewery and brewpub, brought the business of brewing beer to Utah. At the Wasatch Brew Pub, we sampled coconut covered shrimp with a mango-apricot dipping sauce spiked with a little Tabasco to give it a kick ($12).
For the participant with a mango allergy, they served their muhammara – a dip made from red peppers, roasted tomatoes, walnuts and honey with feta served with crostini.
No Name Saloon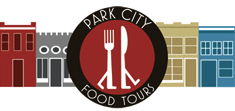 Park City
447 Main Street,
Park City, UT 84060
(435) 649-6667
Further down Main Street we stopped into the No Name Saloon and tried their 100% pure buffalo meat burger served on a grilled bun with their signature house-made potato chips with their flavorful house-made southwestern salsa ($14.50).
Zoom
Park City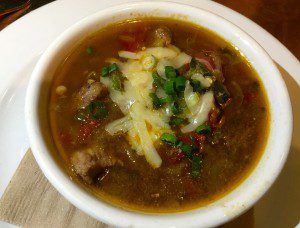 660 Main St,
Park City, UT 84060
(435) 649-9108
At Sundance's Zoom restaurant located in the old (built in 1886) train station, we enjoyed a bowl of their winter pork chili verde complete with tomatillos, onions and lots of chilies (Hatch, poblano red and jalapeños) topped the Gold Creek shredded white cheddar.
They also served a house made apricot and peach sorbet topped with chocolate cookie crumble.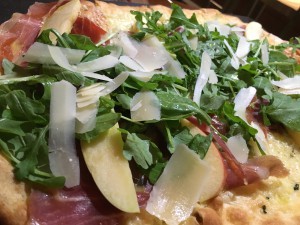 Vinto
Park City,
900 Lower Main St,
Park City, UT 84060
(435) 615-9990
Luckily Vinto was our last stop as we were getting full. There we had a crisp  flatbread fontina pizza topped with thinly sliced prosciutto, sliced apple, fresh arugula and shaved parmesan. My favorite item on the tour. Here we  ended with a bowl of their chocolate-cherry gelato.
– bonnie