I was hesitant to return to the conveniently located Park Central Tavern in Hamden, as I had experienced amazingly mediocre food and service when  it first opened. Word had it with last year's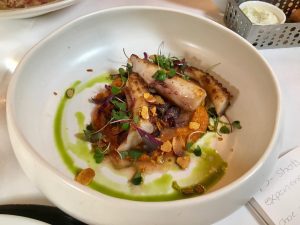 joining forces with the owners of New Haven's Caseus Fromagerie Bistro team that the food had improved. I checked it out for brunch recently.
While looking over the menu, their bloody Mary ($7.50) hit the spot. So far so good.
We than sampled the Tavern Benedict with poached eggs, sliced fresh avocado & smoked salmon ($15) a top a toasted English muffin and covered  — of c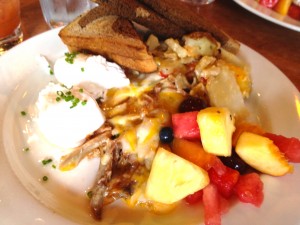 ourse — with Hollandaise sauce. A nice presentation with fresh fruit included diced nectarines, watermelon and grapes plus with some cheesy potatoes.
Also good was the Park Central brunch plate of poached eggs, braised and tender Berkshire pork butt with Vermont Cheddar, cheesy homefries & marbled rye toast ($14). Nice that Park Central uses local (Branford, CT) Soffer Egg Farm eggs.
This was so much improved that I'll have to return again to sample their regular menu.
Park Central Tavern
1640 Whitney Ave
Hamden, CT 06517
(203) 287-8887
parkcentraltavern.com


// ]]>