Parish Foods & Goods in the Inman Park area had served the foods of New Orleans, but no longer. Don't go there wanting your basket of beignets, but do go for a pleasant atmosphere, attentive service and goo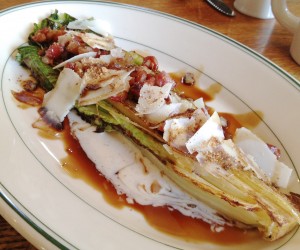 d food.
In lieu of those New Orleans favorites, you'll get small madelines dusted with powdered sugar.
I started with their "in cold blood screwdriver" ($9) made with Absolut and blood orange puree. Refreshing, but bit disappointing as the juice didn't have a true blood orange flavor. The staff brought me another one, made in a different fashion (without the splash of regular oj), sadly it was still not redolent of fresh blood orange juice. I did though appreciate the staff noticing, and trying.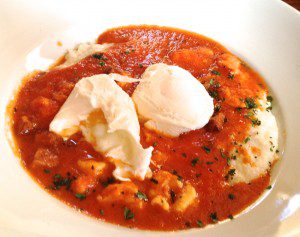 We couldn't resist ordering the grilled romaine ($10). Like homemade grilled lettuce, it was delicious. In addition to the creamy garlicky dressing and a sherry reduction, it was bathed in shaved parmesan and lots of crispy bacon lardons. (Missing were the anchovies from the dressing and the menu stated croutons.)  I'd still recommend.
Also good is the fried chicken Benedict ($14) – a buttermilk biscuit, fried chicken breast and poached eggs in country sausage gravy; and the shrimp & grits ($16) with two poached eggs , spicy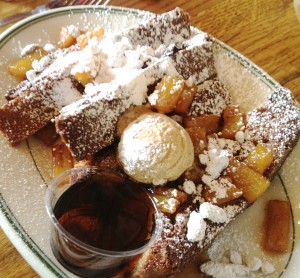 tomato sauce, chorizo and grits.
The brioche French toast ($11) with brown sugar butter, maple syrup and pineapple in a rum syrup reduction was so sweet — we decided to save that as our dessert. But since we had befriended the general manager who insisted we sample their chocolate Coca Cola cake — we ended up with two dessert. The latter had with peanut butter icing and malted chocolate icing. ($7). The cake was a bit dry – but quite good when eaten with a spoonful of ice cream.
Parish Foods & Goods
(404) 681-4434
Inman Park
240 N Highland Ave NE Map.6270c13
Atlanta, GA 30307
parishatl.com/home.php