It's not worth the trip outside of downtown San Antonio to Panchito's, an inexpensive Mexican restaurant — unless it's $2 margarita Thursday.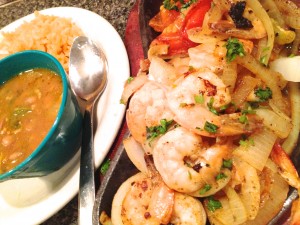 Seriously, that was the best part of the adventure. The food was just mediocre. Nothing to go out of your way for.
We tried the puffy taco with two flour tacos filled with meat, lettuce, tomato and cheese and served with rice and beans ($8.99); the chicken gorditas with thick hand pattie-corn tortillas with lettuce, tomato, cheese and guacamole also served with rice and refried beans ($7.99); and the shrimp fajita dinner ($11.99) of medium-sized shrimp with peppers and onions, served with flour tortillas, pico de gallo and guacamole,  served with rice and charro beans.
Skip this excursion — as you'd find just as mediocre food on the Riverwalk!
Panchito's
4118 McCullough Ave
San Antonio, TX 78212
(210) 821-5338
Olmos Park