Three of us stopped by Pacifico after seeing the amazing Meryl Streep in Iron Lady at the Criterion. After Connecticut Magazine selected Pacifico's mojito ($10) as the best, was there anything else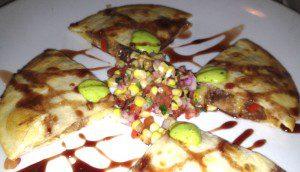 to order? This Nuevo Latino restaurant does this rum drink right with fresh muddled mint, squished limes and sugar in white rum.
We ordered some tapas thinking they'd satisfy. I do like chef Rafael Palomino's food, but not the portion sizes. The Argentinean braised sirloin steak empanadas served with plumped raisins and cilantro aioli ($9) are tasty but in need of more filling as were the Baha Fish tacos($9). "Where's the fish?" I actually asked.
My favorite of Pacifico's tapa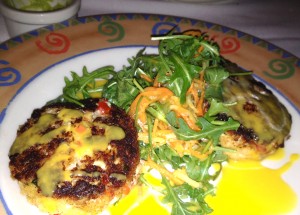 s is the duck quesadilla filled with shredded duck, roasted peppers, smoked gouda cheese and cilantro served with roasted corn salsita, jalapeno aioli and drizzled pomegranate reduction ($12). Also good are the Maryland crab cakes. We ordered an entree portion that provided two sautéed jumbo lump crab cake over a crisp mango-jicama slaw and an arugula salad on a mango vinaigrette ($19.95)
We thought those might satisfy our hunger, but they didn't (….perhaps if the empanadas and tacos had more filling...) so we ordered a the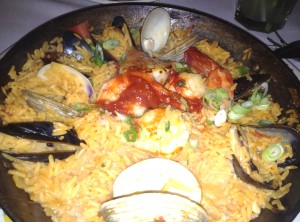 chef's paella Palomino – seafood paella with saffron rice. The dish contained three shrimp, three clams, three mussels and two sea scallops plus three slices of of chorizo ( $22). Again good flavor skimpy portion.
I'd recommend it – but plan to order many dishes to satisfy your hunger.
Pacifico
220 College St
New Haven, CT 06510
(203) 772-4002
pacificorestaurants.com