I first met chef-owner Greg Denton at a Grains-of-Discovery event in New York City where he and his wife Gabrielle Quinonez Denton offered creative uses of the ancient grain amaranth — envision ricotta "Amarancini" with spicy octopus.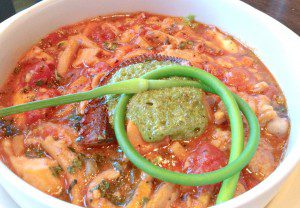 That sparked my reservation at their Argentine-inspired restaurant in Portland (OR).
Ox takes no reservations (except for large parties), so plan to wait at their bar next door. Their dirty martini – Grandma Agnes— uses pickles in lieu of olives. Interesting, nothing special.
The fried empanada, a flaky pastry stuffed with grilled corn, poblano peppers and cheeses (Gruyère & Fontina) could be a light meal in itself.  And a bargain ($5).
I liked how the refreshingly fresh mint aïoli livened the braised beef tripe and octopus. Wished it contained more octopus, less tripe ($12). Sadly, we each had only one bite of the cephalopod mollusk.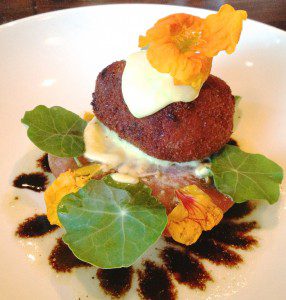 The not to be missed dish is their rich and tender fried short rib terrine stacked with heirloom tomatoes, nasturtiums and dabs of refreshing lemon mayo ($12). A flavor explosion.
Not as much taste with the endive & arugula salad with a Dijon vinaigrette ($10). My favorite side was the roasted cauliflower cooked and served simply. I found the grilled escarole, summer squash & white beans, and tomato ($13) to be over the top in richness. To the doggy bag it went! The sautéed mushrooms with foie gras, sweet onions and wilted spinach ($13) was an interesting melange of flavors.  I'd recom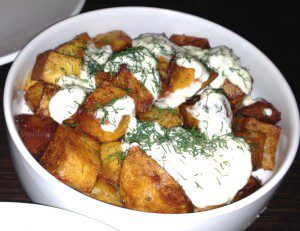 mend that.
The real disappointment was the pricey ($60) Asado Argentino for two with too-tough-to-eat grilled short ribs, house chorizo & morcilla sausages, skirt steak, sweetbreads and a simple green salad. I expected higher quality, more flavorful meats. The crisp fried potatoes that accompanied the meat dish were addictingly good. Perfection, though, was the cocoa-braised lamb shoulder — tender, flavorful and moist. It's what I would recommend. That came with sautéed spinach, chickpeas and shiitake mushrooms along with a peach & herb salad ($27).
Ox's portions are gargantuan. We didn't even finish half of what we ordered. What we took home fed a complete meal the following night and with still more left.
Even stuffed to having to loosen a button, who can resist a chocolate dessert? The ($8) dense dark chocolate cake spread with malted milk chocolate mousse crème anglaise worked, the Malbec marshmallow didn't. Still worth it.
– bonnie
Follow @BonnieBOTB
OX
2225 NE Martin Luther King Jr Blvd
Portland, OR 97212
(503) 284-3366