Earlier this summer I received some organic mushrooms from the farmers from Shibumi, a Princeton, NJ farm, selling their goods at the Andaz Wa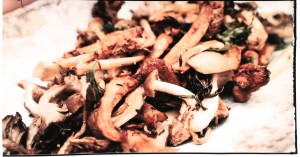 ll Street (NYC) Farmers' Market. Every Thursday through mid November from 11am to 6pm, the hotel's plaza offers a tiny farmers' market featuring produce from local farms.
I used this oven roast mushroom recipe for  their shiitake, maitake, lemon oyster and lion's mane ones. The resulting crisp mushrooms were almost like eating candy. And, the farmers said they'd last at least a week or so in the fridge to be added to pastas, risotto, salads or whatever.
Oven-Roasted Mushrooms
Mushrooms, torn or cut into similar-sized pieces, leaving the smaller ones whole, if you can
Sea salt (I used Falksalt Natural Sea Salt with Wild Garlic)
Olive oil (I used Lucini Fiery Chili Extra Virgin Olive Oil)
Preheat oven to 475-degrees F, with rack in the center position.
In a small bowl, toss the mushrooms with salt and enough oil to coat lightly.  Spread mushrooms on rimmed sheet pan or cookie tray.
Bake for 10 minutes, turn mushrooms and continue to bake until browned and they start to crisp, about 20 minutes, depending on your oven and the size of the mushrooms. Adjust salt to taste.
– bonnie