Oscar Wilde pays homage to the spirit of this Irish playwright's prolific story. As their guest I sampled a good deal of their menu.
After sampling a good deal of Oscar Wilde's menu as their guest, I recommend you visit this fun establishment bedecked with an extraordinary Victorian art and object collection for drinks and their delightful appetizers.
I recommend The Travesty created by mixologist Johnny Swet, that is if they're still serving this specialty cocktail that was created for a partnership with the show Travesties (that was) playing at the American Airlines Theatre. It's a nicely balanced mixture of vodka Lajay Crème de Cassis, lemon juice and Prosecco garnished with a lemon wheel.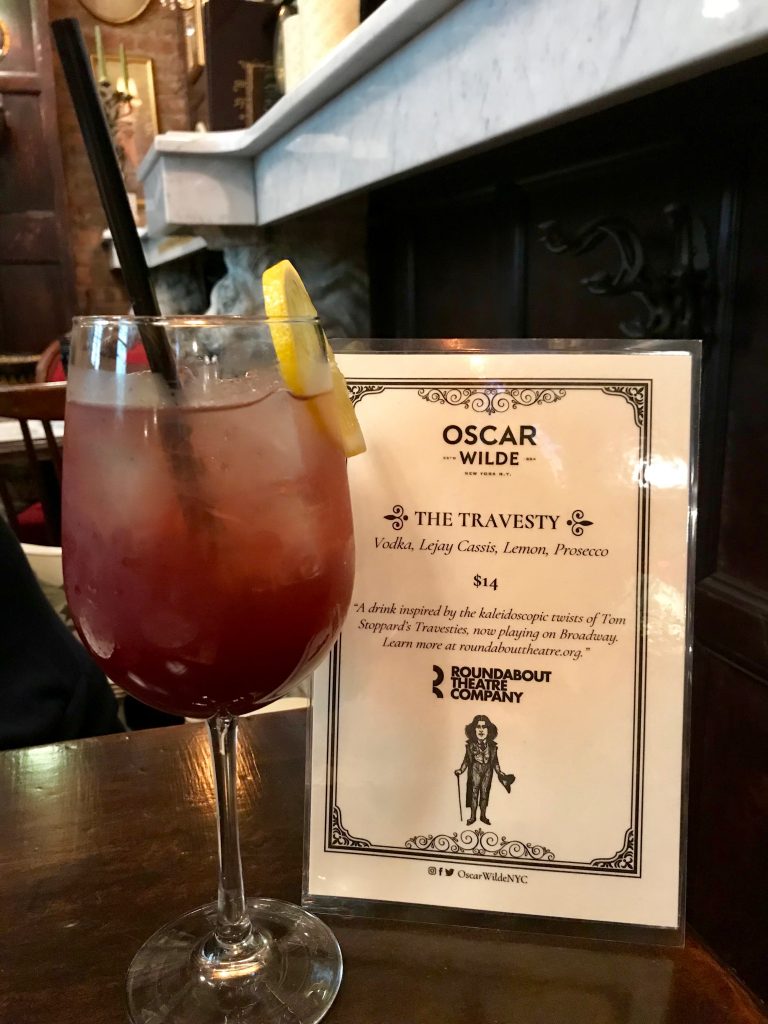 For a little spicy, don't miss their El Heffe made with mezcal, Ancho Reyes Verde and lime in a chipotle salted rimmed glass garnished with a jalapeño to spice it up.
Don't miss their unusual broccomole – a blend of avocado and pureed broccoli with red onion and Thai chilies (think: light guacamole) served with large taro chips ($14). For heat, try the florets of fried cauliflower dipped in spicy Buffalo sauce served with blue cheese sauce ($12).
Also scrumptious are the tender lamb sliders topped with sweet apple marmalade and goat cheese ($16 for 3). They are a meal in themselves. The cutely named Wilde fried calamari comes with pickled Anaheim peppers and fried thyme served with a garlic chili aioli ($13)
To make their wings ($14) more unique the chicken is dipped in a flavorful curry rub, then seasoned crumbs and fried. It's classically served with a blue cheese dip plus an unusual Thai chili honey.
We also sampled a couple of unremarkable entrees that paled in relation to the starters. I'd say this is where you go for great cocktails, apps…and fun.
Oscar Wilde
Chelsea
45 W 27th St
New York, NY 10001
(212) 213-3066