The Olde School Salon and Bistro on State Street in New Haven didn't know what hit them!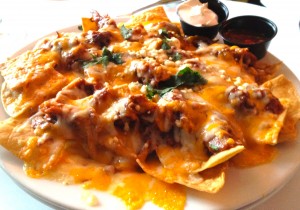 The restaurant had booked the Jassmen, a jazz group of six men over 50, whose real professions include orthopedic surgeons, a veterinarian, an endocrinologist, a business man and a retiree, but whose passion is now music. One played trumpet, trombone, keyboard, bass, sax and another drums.
The wives had emailed friends to come hear them play – and this quite little State Street saloon and restaurant had standing room only.
The food was amazingly good, when it finally was served.  Since we were theee to listen to our friends play and have some nibbles, we didn't mind waiting an hour to be served. We sampled the pulled pork nachos($12 for the large size), with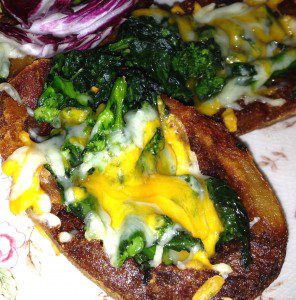 tender pork braised in a sweet BBQ sauce a top crispy tortilla chips topped with cheddar cheese and garnished with fresh cilantro. Unusually good; I recommend.
Also tasty were the four crispy baked potato skins ($10) stuffed with broccoli rabe, also topped with cheddar cheese. The Louisiana shrimp were sauteed ($12)  in a spicy butter sauce along with with andouille sausage and green pepper. Nothing special.
Luckily we had ordered a bottle the 9 Walks Sauvignon Blanc from New Zealand, so we had something to drink while waiting for our food and listening to the music.
I'd recommend this fun pub, especially if they have more staff a night the Jassmen are there!
– bonnie
Olde School Saloon and Bistro
418 State St
New Haven, CT 06510
(203) 772-0544