When heading to Austin recently, I emailed my friend Cathy Cochran-Lewis asking for suggestions of where to eat. One of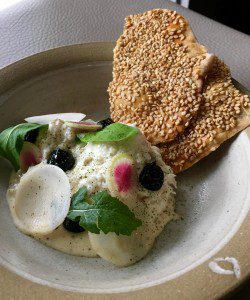 her suggestions was Olamaie, near the UT campus.
"Really amazing food with Southern flair. This is where we hosted an Emeril dinner last fall and he loved the restaurant. The two chefs have been named Top 10 Best New Chefs and the restaurant also has made the James Beard list. People kill for their biscuits."
How could I resist?
I knew we were in for a treat as I looked over the menu and discussed it with our server.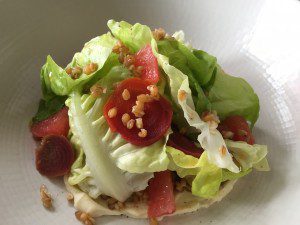 While trying to decide what to order, we sipped on a 2011 Pietra Santa Sangiovese, from the Cienega Valley, CA ($53). Most wines on the menu are from California, with only a couple from Texas, Oregon and New York.
Our server asked our water preference — flat or sparkling adding — "We sparkle our own."
We chose three apps, one sandwich and — we couldn't not order — a side of biscuits ($10) with honey and butter.
The salad of roasted beets served those roots over whipped Brazo's Valley gouda with supremes of red grapefruit and butter lettuce sprinkled with toasted farro ($13). We used the crisp housemade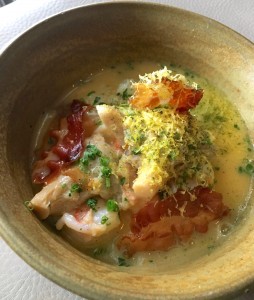 benne  (sesame seed) cracker to dip into the smoky fish ($14) mixed with a Meyer lemon puree, topped with watermelon radishes and pickled turnips. Both were an amazing amalgam of flavors, but our favorite was the shrimp and Gristmill grits ($15) with oyster mushrooms and Benton's bacon topped with egg. It was so good we wanted to lick the dish; we restrained.
The basket of biscuits ($10)  didn't disappoint. We could have stopped there – but glad we didn't as the fried fish sandwich on a lime-mayo spread benne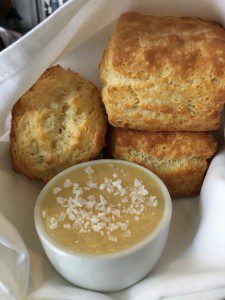 seed bun ($16) oozing with cabbage slaw was as good as everything else.
If you make it to Austin, don't miss a visit to Olamaie.
– bonnie
Olamaie
Downtown
1610 San Antonio Street
Austin, TX 78701
(512) 474-2796