And the winner is: Death in the South Pacific by Washington bartender Evan Martin.
It's now the "official cocktail" of the 2010 annual culinary and cocktail festival, Tales of the Cocktail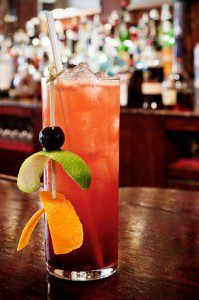 . Recipes poured in from New Zealand to Washington as over 150 bartenders punched it up to create a tiki-inspired cocktail for the 8th annual festival.
Evan Martin's drink featured Appleton Estate Extra 12 Year Old Rum, Rhum Clement VSOP, Grand Marnier, Trader Tiki's Orgeat Syrup, Fee's Falernum, Fee's Grenadine, and Cruzan Blackstrap Rum.
"This drink hits all the contest requirements on the nose: It creatively mixes multiple rums, sweeteners, and citrus to "tikify" the Planter's Punch template; it has a full-bodied, layered, but not overcomplicated flavor; and its garnish shows theatrical flair, cleverly referencing the drink name." Said Jeff Berry, official cocktail competition judge and tiki expert.
Martin's cocktail will be served throughout Tales of the Cocktail, July 21-25, 2010 and will be featured in the summer issue of Culinary Concierge and The Tasting Panel magazines and on the CocktailTimes.com and DrinkBoy.com websites.
Tales of the Cocktail is an internationally acclaimed festival of cocktails, cuisine and culture held annually in New Orleans, Louisiana. The event brings together the best and brightest of the cocktail community—award-winning mixologists, authors, bartenders, chefs and designers—for a five-day celebration of the history and artistry of making drinks. Each year offers a spirited series of dinners, demos, tastings, competitions, seminars, book signings, tours and parties all perfectly paired with some of the best cocktails ever made.
– guest contributor