Surfing — not the ocean but the web — I tripped over information about Oasis on The Beach in Kapaa, Kauai, where I was staying. Could the restaurant be as fabulous as all the rave reviews?
Dining began with our friendly waitress Leigh, offering us a tri-layer mini martini to tickle our palates as thanks for using the web to make the reservation (which by the way I got 1000 open
table points for doing!)
Bartender Ryan — who makes their house-infused booze — designed the martini — consisting of dry white port, a house infused hibiscus vodka and blackberry liqueur. Loved the hospitality but the not the flavor of the drink. A bit too sweet for me.
I did love the seafood and citrus amuse bouche and also Chef Zac Sato's freshly made sweet potato chips.
The food at Oasis are basically small plates, AKA tapas. We sampled the Kailani farms arugula with a puff pastry wrapped double cream brie served with a sweet papaya relish ($13), Moloa's beets with chevre and li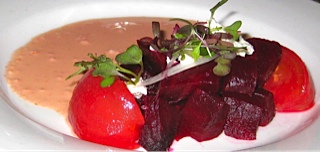 hing mui (salted tried plums) ($9) and pau uilo : tenderloin beef with a blue cheese sauce and sweet potato fries ($16).
We selected a bottle of wine  from thier very slim menu with only five each reds and whites, all costing $10 a glass, a steep $50 a hefty bottle, all  hand selected by Colin Darrell, who acts both as restaurant manager and sommelier.  My favorite Austrian grape was offered from the Edna (CA) Valley, a Zocker Gruner Veltliner. It had some minerality, with a hint of lemon and peppery green melon.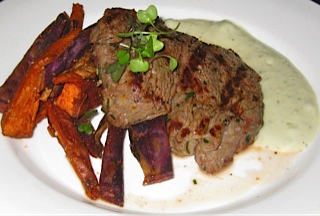 For dessert, we sampled Country Moon Rising's chocolate chip banana bread with sour cream ice cream ($9). Good, but I prefer my homemade.
Oasis had many tasty-sounding offerings that I wish I had more time on the island to go back and sample them all.
– bonnie
Oasis on the Beach
4-820 Kuhio Hwy
Kapaa, HI 96746
(808) 822-9332