The New York City restaurant grading system implemented in 2010 is working. Many diners won't enter a restaurant  if there's a "B" or "Grade Pending" posted in the window. In fact, I — like 88% of New Yorkers — consider the grade before booking my res. I check with the department of heath online or use the ABCEats app. Click here to find a restaurant's letter grade and to learn what the grades actually indicate.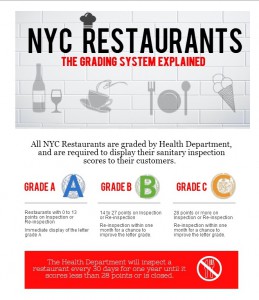 Did you know that:
New Yorkers eat at restaurants nearly a billion times each year
6,000 New Yorkers are hospitalized and 20,000 visit emergency room each year because of foodborne illnesses
2,700 residents of NYC complain to the City each year about restaurant-foodborne illness
1 in 4 restaurants are re-inspected due to severe health code violations
Keep looking for and frequenting those restaurants with  "A" grades in their windows. I know I will.
– bonnie