Lunch at Novo Restaurant in the historic downtown area of San Luis Obispo was my last chance to treat my sister and niece to a meal.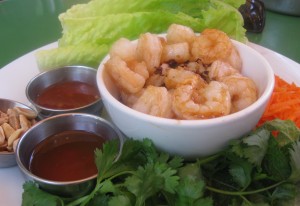 I had high hopes for this restaurant known for its many international flavors.
We were seated on the patio overlooking the San Luis Creek. Could the fact that there wasn't a cloud in the sky be a sign that this meal would be perfection? I had high hopes.
Consistent with the rest of my visit, we ordered a Central Coast wine, this time a crisp Tangent Albarino ($30).
In typical fashion, we opted to split everything. We started with deep-fried Potato Samosas ($8) —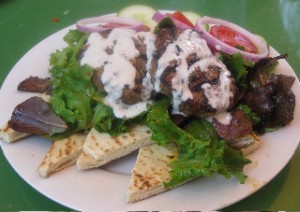 Indian spiced potatoes enclosed in wonton skins served with a mint chutney and cooling yogurt. Lucky for me, Shelly found them too spicy. I engulfed hers! Next we experienced the Novo Lettuce Wraps ($14) — grilled pawns, julienned vegetables, fresh mint & cilantro, nuoc nam (fish sauce), chili sauce and chopped roasted peanuts. To eat, you try to enclose all the ingredients in a lettuce leaf. Messy, but freshly delicious.
Next we nibbled their Singapore chicken satay ($13) — three skewers of grilled chicken in a housemade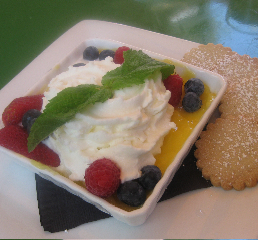 peanut sauce a bit too mild for me, but perfect for Cindy and Shelly. This was served with jasmine rice and cucumber salad. Lamb Kefta ($13) was our other tasty dish consisting of Moroccan spiced lamb drizzled with yogurt sauce, fresh greens, tomato, cucumber in a harissa vinaigrette and warm flat bread.
For dessert we split what Novo calls a lemon tart ($8). It's not a tart per se, but tart lemon curd with fresh raspberries, whipped cream and crisp shortbread cookies for dipping.
I found my gift to them, as this meal, service and surroundings were perfection.
– bonnie
Novo Restaurant
726 Higuera Street
San Luis Obispo, CA
805.543.3986