I really like Chef Daniel Humm and his food, which is why I've been putting off writing this review of my recent meal at NoMad. Don't get me wrong, I enjoyed the casually elegant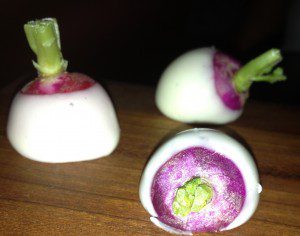 experience in the NoMad hotel — but was disappointed in the must-have $79 chicken-for-two that's been over-hyped. So overly written about that— according to our server — more than half the diners at NoMad order that chicken.
There's been lots written about the preparation of the special breed of chicken grown at an Amish farm in Pennsylvania just for the dish.  It's a multi-step process where the chicken is carefully stuffed — under the skin — with a prepared combination of foie gras, truffles and brioche crumbs purportedly to insulate, as well as, baste the breast meat so it cooks evenly and doesn't dry out. I only say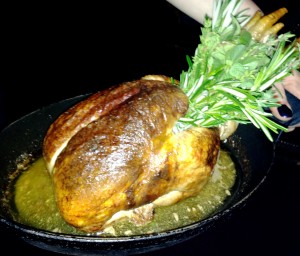 purportedly as the breast served to me was dry… in fact, almost too dry to eat.
What was fabulous though was the tender, moist dark meat that the kitchen finished cooking after the whole bird was walked thru the dining room and presented at the table. That dark meat is served over a bean puree in a brown-butter, topped with a soft-cooked egg and, according to the server, a truffle dressing. I wished I could have had more of that.
Let me back up a bit.
The service — as you'd expect from a Daniel Humm and his partner restaurateur Will Guidara establishment — is quite attentive. We were first served a delectable loaf of bla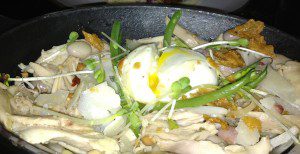 ck bread with grapes, pecorino cheese and rosemary along with butter-dipped radishes with fleur de sel (which I found odd as the menu lists them for $8).  We ordered the Brooklyn Brewery 'Nomad le Poulet' a brown ale that is specially crafted to stand up to the richness of the foie gras and truffles in the chicken. It tasted like a mild Guinness, blended with Newcastle.
For our starter, we split the housemade tagliatelle with Alaskan king crab tossed with some butter and Meyer lemon, the topped with cracked and black pepper and finely chopped chives ($28). Tasty, but no fireworks.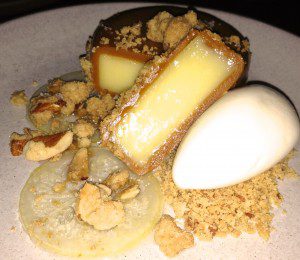 What was spectacular was the dessert – and this is from a dessert skipper. Don't miss the lemon tart citron ($14) – a lemon cream inside caramelized shortbread served with almond brittle, candied lemons and ricotta ice cream.
Along with dessert we received a plate of amazing goodies including popcorn cheddar macaroons, espresso chocolate, rum raisin truffle, grape shortbread and ginger pâte feuilletée. Each also worth the calories.
So I would recommend dining at NoMad, but suggest ordering something other than the chicken. Sorry, Daniel.
– bonnie
The NoMad
1170 Broadway
(28th Street)
New York, NY 10001
(347) 472-5660
thenomadhotel.com/#/dining