Nix,  a new vegetarian restaurant by some of the owners of Narcissa, recently was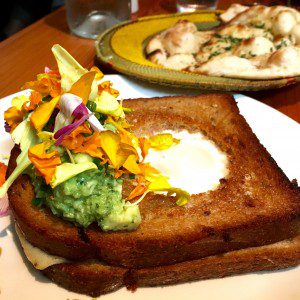 awarded a well deserved Michelin star.
I've already been for brunch and dinner, and do plan to return. Yes, it's that good.
For brunch, we had started with their version of a mimosa — a watery blend of orange juice, campari and cachaça ($12).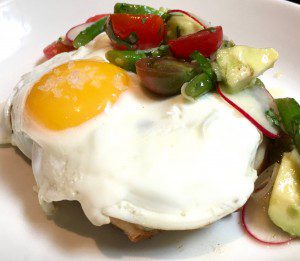 We then selected three entrees that we planned to share. The minty egg in the hole, with white cheddar, avocado and whole wheat toast ($15); their fry bread and gravy, with portobello mushrooms and a sunny-side up egg all seasoned with sausage spices ($15), and their shaved veggies of carrots, radishes, fennel, radicchio and artichokes sitting on white bean purée with quinoa and blue cheese ($14).
We ended up with another entree —as James Truman one of the owners stopped by  saying he recognized me and offered to send out his favorite dish, one we hadn't ordered. Its Nix version of huevos rancheros called a Mad hatter pie,    containing an egg, cranberry beans, oaxaca cheese, kale, pico de gallo & avocado ($16).
When I came back for dinner we started with a bottle of Aligoté,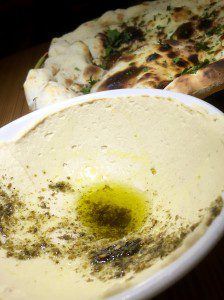 Domaine Paul Pillot, Burgundy, France 2014 ($50), a full-style sauvignon blanc that reminded our server of an unoaked Chardonnay. Then we shared warm from the over tandoor bread ($5) with wonderfully flavored  hummus ($4); a kale and beet salad, sprinkled with pistachios then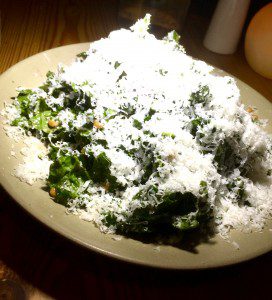 snow-covered in shredded aged goat cheese ($15) followed by some interesting veggies preparations that made us not miss meat. They serve a bowl of shiitake mushrooms "cacio e pepe" style in a very dense and rich cream base over polenta ($24) and — my favorite — poppy-seed coated cauliflower tempura served with with steamed buns & house pickles ($18).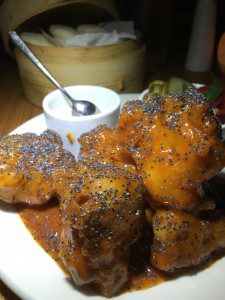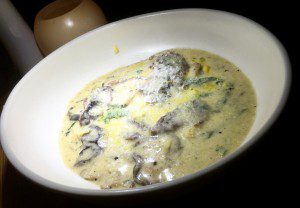 Since it was my friends birthday, they also served a heavenly chocolate cake roll filled with chocolate mousse for dessert replete with a candle.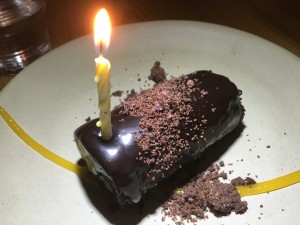 – bonnie
Follow @BonnieBOTB
Nix
Greenwich Village
72 University Place
NY, NY 10003
(212) 498-9393