Bonnie: "Rule the kitchen with this new Ninja Master Prep," boasts the makers of this new kitchen appliance.
They claim that this under-$50 Ninja could dice more evenly than my expensive food processor and chop ice better than blenders.
"Skeptical," is an understatement.
So, when asked, I agreed to test this as a possible FeaturedBite on Bite of the Best.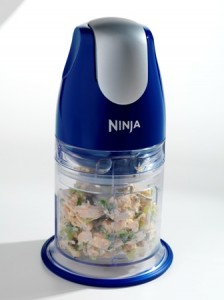 The Ninja came with a "Master Pod" containing the motor, which fits atop the two containers to power the machine. One use is on the "Mini Master Prep" a 2-cup quasi-food processor for chopping; the other is on the "Master Prep Pitcher," a 48-ounce blender for making frozen drinks and smoothies.
The removable blades (notice the plural!) sit inside the containers, each of which has a pour spout and comes with a blue (my favorite color) storage lid.
But, does the Ninja work?
I first tested it on an onion. I followed the instructions' suggestion to pulse the motor until the onion was the consistency I wanted. When done, I removed the top expecting to see different size pieces. Wrong. I found no chunks, just evenly chopped onion pieces. Same results with a ripe tomato.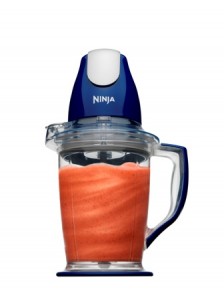 Next test was the blender. The Ninja folks boast that this "blasts ice into…fluffy snow to make restaurant-style drinks in just seconds." It does just that. Think frozen margaritas or daiquiris, yogurt smoothies or any slushie drinks.
Before making drinks, I suggest making ice cubes from whatever liquid ingredients you're planning to use so you don't dilute your drinks.
They suggest you serve, seal and store in the same container. That's where I no longer follow their suggestions. I prefer to serve in nonplastic containers.
I like this product so much that one of my talent agency clients is now representing the Ninja.
Bryan: Ok, so I'm not going to lie. I definitely felt a little twinge of "infomercial" when first seeing my Ninja Master Prep. I mean, it slices, it dices… Don't look at it the wrong way or it'll kick your a$$! I heard the voice of kitchen gadget guru, Ron Popeil echoing in my head: "It'll solve all your kitchen needs," he whispered. "But I've heard that all before," I answered.
Could it be true this time?
I have to say that part of my review of this product is unfortunately going to involve bashing another, similar product. While I don't like pointing fingers, I had been promised this same litany of abilities from another company once, though my immersion blender/chopper from the Bistro collection truly failed to deliver on any of its boasts. My milkshake maker was a bust and impossibly hard to use, while the mini food processor accessory couldn't even make its way through an already pre-chopped onion. I was promised everything and I got nothing. It was simply useless. (Sorry Wolfgang, you still make great pizza. We're cool, I promise!)
When the Ninja arrived, I readied myself for disappointment again, but this time found none. The Ninja not only delivered on its promises, it exceeded every one of my expectations! This is two kitchen devices in one, and each of them actually works! Taking into account all the additional accessories, the Ninja is phenomenally useful.
The Ninja is quite a powerful and unique blender and food processor. I realized why this kitchen gadget got its name as soon as I started using it. While most other blenders and choppers have a single, bottom-dwelling blade, the Ninja has dual blades. This unique, if not revolutionary, adaptation allows the gadget to transform ice cubes into perfect, creamy frozen drinks in just seconds. Many blenders will leave chunks or transform cubed ice into a watery mess. There is something special though about the dual blades, creating the perfect consistency for shakes, smoothies and frozen cocktails.
The mini food processor is equally as powerful (both blades use the same interchangeable, top-driven motor). The chopper perfectly produces diced or minced vegetables; onions, potatoes, carrots, celery, and the like all passed with flying colors! The Ninja is also perfect for any of your salsa or dips. The pulse control makes it easy to avoid turning your entire creation into mush.
The "Master Pod" easily switches from the Mini Prep to the Prep Pitcher. I was worried, as I've sometimes seen TV personalities make this type of switch with ease, only to be confounded by my own, at-home try. I like things that are idiot-proof and the Ninja passed its tests with flying colors. The pod only fits on in one way, and the blades can only connect in one way. Utility is further compounded, as the set includes two storage lids, allowing your Ninja creations to last in the fridge without the need of an additional storage container.
The blender pitcher is generously sized, ideally designed for parties with a large 48-oz pitcher. It's perfect for making several drinks at a time, and features an easy flip pour spout and no-slip bottom. The Ninja pieces are also dishwasher and microwave safe. It's not going to make your dinner for you, but the Ninja will certainly multitask at your behest.
Eric: To explain this in modern written language, OMG this product is not a WTF. The Ninja, or as I like to refer to it, "the little infomercial product that could," is an appliance designed for the modern kitchen as well as for the fast-paced lifestyle many of us live. Similar to its infomercial nemesis, "The Bullet," the Ninja is designed for two specific reasons – crafting great ice-based drinks and prepping the otherwise tedious mise en place.
It's hard to find flaws in a product with a simple, user-friendly design that not only works well, but helps to bring new life to a sometimes-dull kitchen. In my kitchen the Ninja has been a nonstop drink-testing machine – first with the mojito (fresh mint from the garden) and second with a daiquiri – that has helped to bring a few hours of creativity (and intoxication).
Available at the Bite of the Best shop.