The 2015 New Taste of the Upper West Side kicks off May 27 with an exciting lineup of new and returning restaurants, world-class chefs and celebrity hosts for an unforgettable three-night culinary celebration. The annual event donates all net proceeds to the local community.
The festivities begin with Soirée in the Park on Wednesday, May 27th 7:30 – 9:30 pm (Rain Date: Thursday, May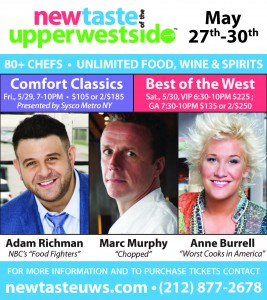 28th) , an outdoor cocktail event at Theodore Roosevelt Park that celebrates and raises funds for New York City's beautiful Theodore Roosevelt Park, surrounding the American Museum of Natural History. Guests will enjoy live chamber music under the stars with champagne and hors d'oeuvres provided by a host of local restaurants including Sarabeth's and Luke's Lobster.  Tickets $150 per person.
The event continues on Friday, May 29th from 7 to 10 pm with Comfort Classics presented by Sysco and hosted by NBC's Adam Richman under an elegant, block-long tent on Columbus Avenue between West 76th and 77th Streets, where 40 Upper West Side restaurants will display their most innovative and creative "home-style" fare, while competing to win the title of "Best Comfort Food Dish." The evening will be further highlighted by sensational international wine selections, creative cocktails and live music provided by the Silver Arrow Band. Tickets $105 per person or 2 for $185.
The final evening is Best of the West on Saturday, May 30th from 7:30 – 10 pm, hosted by Food Network's Anne Burrell and Marc Murphy and MC'd by Lauren Scala of NBC's TODAY in New York under the grand white tent that spans Columbus Avenue between West 76th and 77th Streets.  With 40 New York City  Upper West Side's most famous restaurants and celebrity chefs being the focus of the evening with  spectacular cuisine, world-class wines and enticing cocktails, buoyed by the 16-piece rhythms of Joe Battaglia & The New York Big Band.
Tickets $135 per person or 2 for $250; $225 per person for the Best of the West VIP (an enhanced experience that includes exclusive access to a private lounge with unlimited champagne, special gift bags and and hour early access.
For more details about any of the events or sponsors,  or to purchase tickets, click here.
The Columbus Avenue Business Improvement District is a 501(c)(3) not-for-profit corporation, representing merchants and property owners along Columbus Avenue from West 67th Street to West 82nd Street. This annual event, which was created by the Columbus Avenue Business Improvement District ("BID"), a 501(c) (3) not-for-profit, donates all net proceeds to the local community for neighborhood improvement and beautification projects such as the Columbus Avenue BID's Sustainable Streetscape project, and other beneficiaries as the Wellness in the Schools program, Greenhouse Classroom, Citymeals-on-Wheels and Theodore Roosevelt Park.