This time my dining alfresco waterside search landed me on the deck of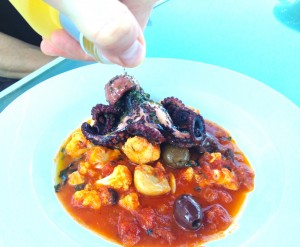 Nellie Green's in Branford on a Connecticut summer's night.
This bistro menu had lots of creative sounding offerings. We started with a whole tender baby octopus ($13) perfectly grilled with organic tomatoes, roasted cauliflower, olives, fresh basil and thyme. The chef actually came out to drizzle some white balsamic over the dish. Perfection,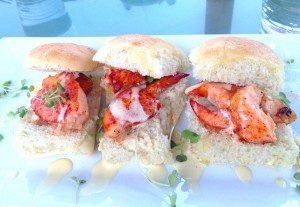 not to be missed.
Sadly we didn't get to really experience the grilled wild caught golden sea snapper fish tacos ($18) as our piece had spoiled, recognized by an off odor.. They gladly replaced it with our substitution choice, the trio of lobster sliders with butter-poached lobster topped with microgreens with a refreshing key lime aioli on the buns. For me there was too much bread, too little lobster, but is there ever enough lobster? A light perfect snack.
– bonnie
Nellie Greens
50 Maple Street
Branford, CT 06405
(203) 483-8400