I attended a Meyer cookware press dinner recently at the newly opened Narcissa restaurant, 21 Cooper Square in The Standard hotel. It's an André Balazs and Michelin-starred chef John Fraser restaurant that's not to be missed.
The restaurant marries seasonal, local and organic produce from Balazs' upstate farm with roasting, rotisserie and slow-cooking techniques for a veggie-centered unusually interesting menu.
Everyone at my end of the table in the private dining room wanted to share! So for apps, we all tried the rotisserie-crisped beets that are finished on the grill and served with bulgur salad and crispy apple batons all over creamed fresh horseradish ($14); Dungeness crab salad with hearts of palm chunks and chopped hazelnuts in a blood orange sauce ($16); and the most amazingly tender potato gnocchi with fresh fava beans and ramps, topped with parmesan cheese ($15). I recommend all, but if I returned I'll have a whole portion of the gnocchi!
Not to be missed  are the fried carrots with a spicy jalapeño-mayo-like (made with tofu) dip for a side. Also good is the kohrabi with red cabbage and super green spinach topped with crunchy potato chips.
Hopefully you'll be with others who'll share as the entrees are superb!! The steamed black bass arrives in hot crock swimming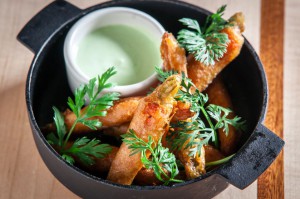 in a delicate light French curry broth over black lentils dusted in Cointreau and lime, with charred onions, sliced almonds and dried apricots ($26).  Also good is the  fork-tender baked cod with roasted peppers, picholine olives, fresh basil and artichokes ($28); the seared Maine scallops with an asparagus buerre blanc "stew," fiddlehead ferns and crawfish ($30); and the rotisserie lacquered duck breast with parsley root and rhubarb $32). All recommended.
You must save room for dessert ($9 each). The apple-huckleberry crisp topped with melting sour cream ice cream was perfection with it's crunchy topped warm fruit capped with melting ice cream forming a sauce. Irresistible. Also tasty is the toasted fennel cheesecake, with a light mouse-like consistency topped with grapefruit and drizzled with chartreuse and the bittersweet chocolate tart with curry roasted bananas all topped with espresso ice cream. My least fav were the ordinary individual parsnip carrot cakes topped with cream cheese frosting golden raisins and poppy seeds.
Be sure to come with friends so you can share.
Follow @BonnieBOTB

– bonnie
Narcissa Restaurant at The Standard Hotel
East Village
21 Cooper Square
New York, NY 10003
(212) 228-3344