Nancy Wall Hopkins, Senior Deputy Food and Entertaining Editor, Better Homes and Gardens Magazine
Two weeks ago we announced the beginning of the new Guest Foodie BOTB (Bite of the Best) feature. Every other week we'll be spotlighting friends from the foodie universe – food editors, authors, chefs, restaurateurs, cooking instructors, bloggers – and asking them about their food preferences.
Who: Nancy Wall Hopkins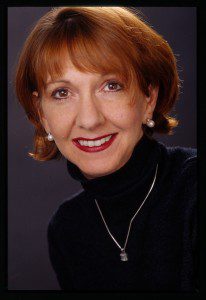 Title: Senior Deputy Food and Entertaining Editor, Better Homes and Gardens magazine
Organization: Better Homes and Gardens Magazine, Meredith Publishing
Location: Des Moines, Iowa and New York, NY
Website: BHG.com
Twitter: @NancyBHG
I've known Nancy for eons, traveling on many of the same editor trips, but it was over a couple of beers in a saloon in Juneau on an Alaskan seafood press trip before salmon fishing that we really bonded. Nancy — like most food writers — loves what she does.
– bonnie
"I'm off to shoot THANKSGIVING for the magazine. It is the biggest story of the year and it takes the most LOVE. I'll be in York, Maine, shhh—can't say where but it will be so delish. Then, I'm off to Vermont for a Pie Feature, then back to Des Moines to shoot an extraordinary cookie feature for December. Life is very TASTY. I love what I do!!!!"
Which food product or gadget would you never give up? Wholesome, hand-hewn crackers. Why? I was a cracker in another life. I ADORE their texture, the shape, the hearty crunch, the saltiness, the craggy personalities of crackers, and lastly, the way they go with anything AND go "crack!" I'd love to start my own cracker line! But what would it be? There are so many great crackers, I wouldn't know where to start.
What do you like to serve when you entertain? I'm a girl from the South. I love to FEED people and I typically reach into my Southerness and prepare a wonderful Southern-influenced menu with lots of MODERN spins on Southern Foods, spins that I've played with and tweaked. The menu is often a long-roasted pork, greens of some kind (adore collards), potato salads, corn dishes—the real deal but way better!
Describe your "last meal?" A pretty decent big and hearty salad with fab briny olives, a homemade ranch-style dressing, great greens, fresh tomatoes—it was a simple catch-up QUICKIE dinner out with my daughter just home from summer college classes. No fuss! GREAT gabby conversation was the point!
What food is your secret guilty pleasure? I travel constantly, and really get to eat all the great food to be had in many GREAT cities. Sometimes it is the simple stuff that wows me. For example, I have to pull away from well-made Perfect Potato Salad. You know, the kind that is velvety, creamy, chock-full of hard-cooked eggs, lots of mustard. REALLY PERFECT. After that, Barbecue! Any kind.
What is your go-to, neighborhood restaurant? I spend a lot of time in Brooklyn, where my boyfriend lives. Love SO SO many restaurants there, but lately, I REALLY enjoy Rucola. It is friendly and fab. Check it out! It's at 190 Dean Street. Out of the way and fun! After that, I just love roaming Brooklyn to find a new spot!
What is one food product most people don't know about, but  should? I have my favorites. Lately, I'm all about Chef Salt, the 7 Salt flavor. It is crafted by two chef's I like a lot. Seriously, they've got talent. I seem to be sprinkling it over everything! What's neat is that it comes off like a seasoning/pepper salt but really is unique and perfectly balanced. Literally, it is amazing. It is sweet, crunchy, smooth. They call it the "Universal" blend and it really is!