(Obviously, written before COVID-19 quarantine)  Little did I know when Andrea Kaiblinger and I were emailing about my reservation at her Michelin-starred restaurant Esszimmer in Salzburg (Austria) that my friends Scot, Ed and I would be their last customers before the government instructed them to shut down.
Andrea welcomed us warmly as we arrived at her comfortably elegant restaurant.  Andrea, who works with her husband Andreas, mentioned that they had been operating for 16 years.
"How many years have you had the Michelin star?"
"Sixteen," she responded with a big smile filling her face.
I've always found lunch an affordable way to dine at Michelin-starred restaurants. That also gives me time to digest the fabulous meal.  We three chose the three-course lunch at Restaurant Esszimmer,  a bargain at 45€. We added wine pairings.
On the table with our bread were wrapped fingers of vegetarian "lard" (coconut), tomatoes with olives, salted butter from France, sea salt from Slovenia and olive oil from Greece.  We started by raising a glass of Johann Schneeberger bubbly Brut Rosé, Flaschengärung.
Our amuse bouche consisted of a glass filled with green cream of courgette (zucchini) soup served on a royal blue plate with a biscuit topped artistically with smoked trout, a rolled slice of carrot, a piece of cucumber all sprinkled with trout caviar. Everything tasted as good as it looked.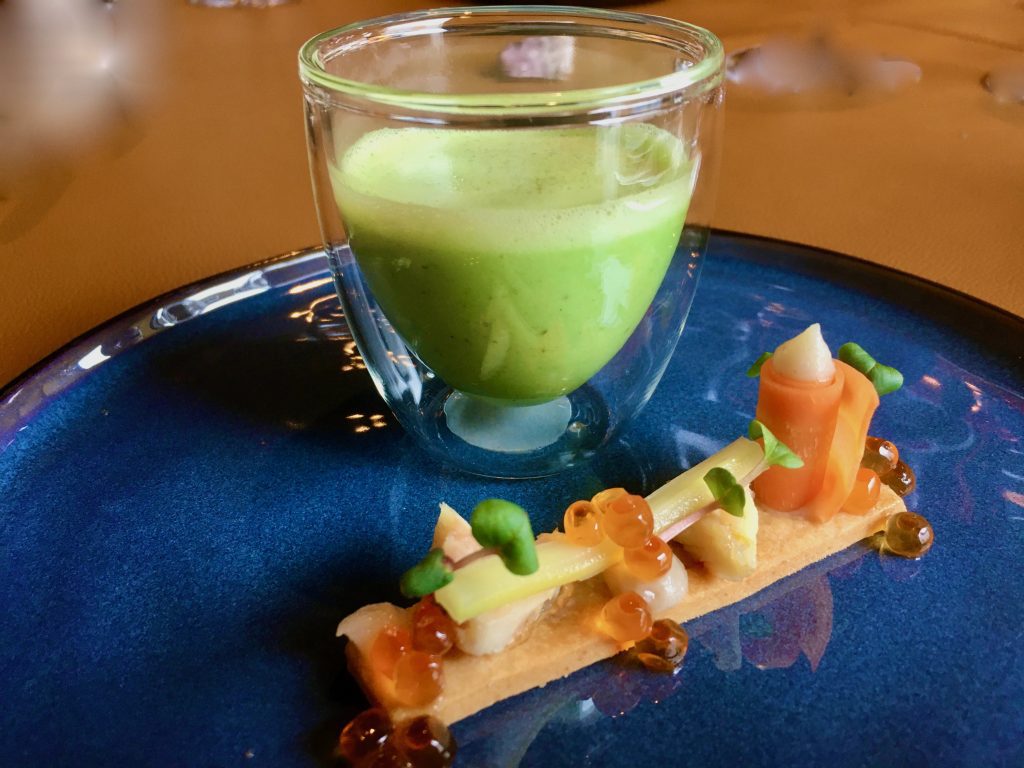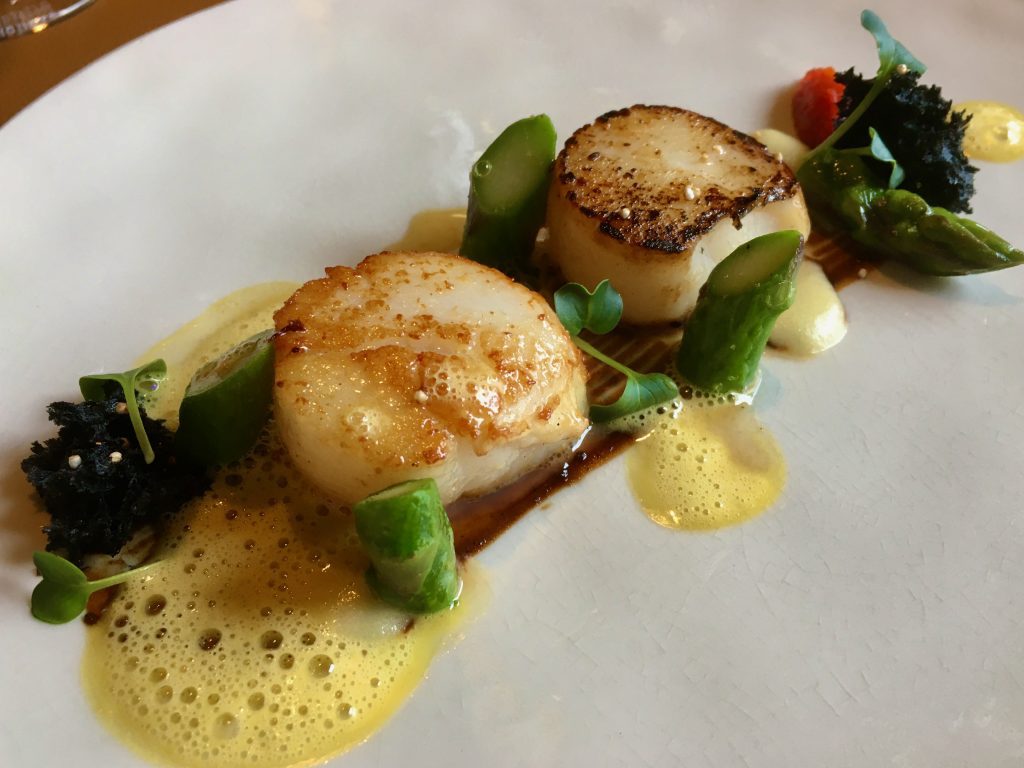 The scallops arrived in a puddle of sweet cream of black garlic and garnished with tomato and green asparagus topped with a saffron foam. With that, we had a glass of  2018 Roter Veltliner, Birgit Eichinger, Strass im Kamptal.
Two of us had the duck breast with creamy chervil tuber (a root vegetable) and broccoli, violet carrot,  radishes, a  violet potato chip with fresh morels on toasted brioche.  The other had tender potato gnocchi with morels, fresh asparagus, asparagus foam and zucchini cream.  With that, our host poured a  2015 Alius, Jaqueline Klein, Andau im Burgenland.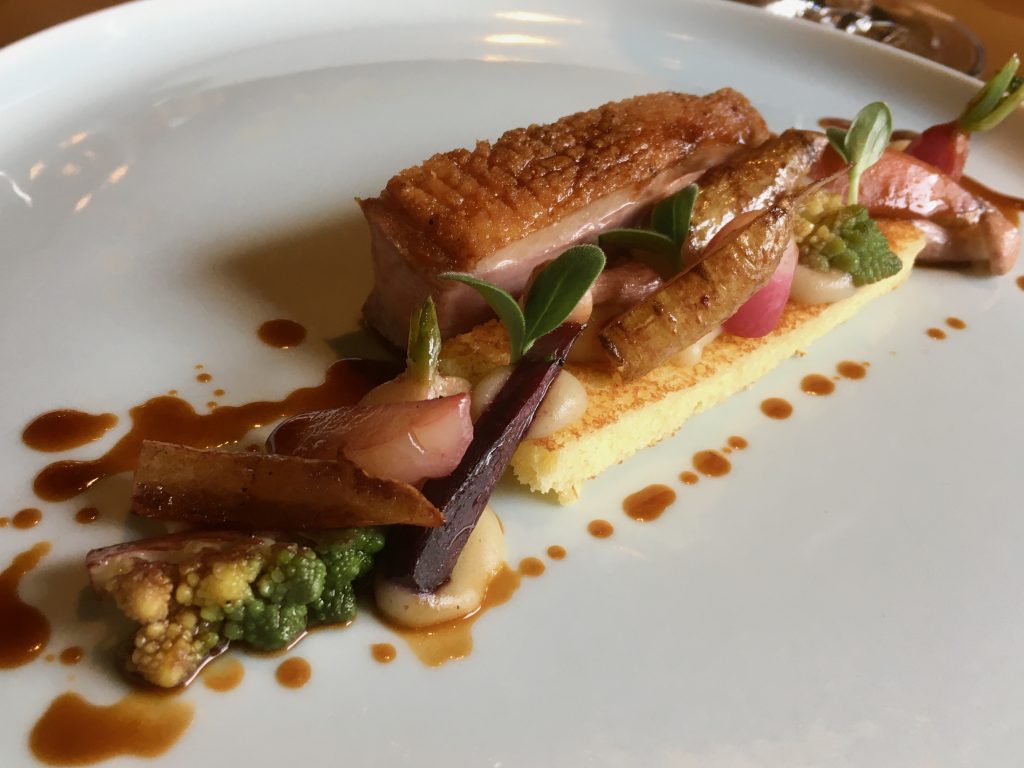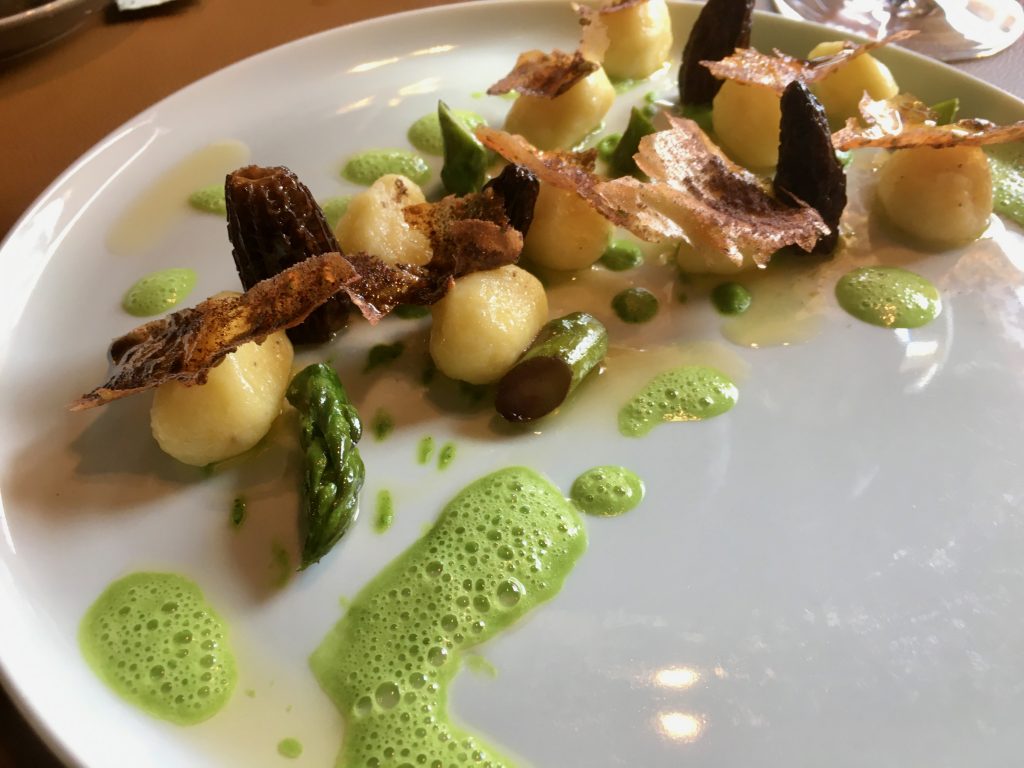 The chocolate strudel came with white chocolate ice-cream and strawberries on coffee cream garnished with chocolate caviar topped with fresh mint. With that, we sipped a 2017 Spätlese, Heidi Schröck, Neusiedlersee.
And of course, after our meal, our hospitable hosts served us a "small treat finish," almond bread with poppy seeds topped with mandarins and mandarin cream.
When the world opens up again, I highly recommend a trip to Austria with a meal at Esszimmer. It's that good. Or if you're in Austria now, make a special trip to dine at Restaurant Esszimmer as they are open.
To make a res ahead, just email Andrea at office@esszimmer.com  (or call 00 43 / 662 870899). Meanwhile, you might visit Andreas blog Essen Lieben that he's been penning, providing healthy recipes.
Restaurant Esszimmer
Müllner Hauptstr. 33
5020 Salzburg
Austria