With all the ingredients on the counter ready to be used, you can whip up a batch of these irresistible fudgy brownies in 7 minutes. (Plus, of course, baking time!)
Now that I'm living alone, I don't make these unless I'm entertaining (a pre-COVID-19 happening!) or have room in my freezer to store them. They are that addictively good.
My Supermarket Sampler cohort, Carolyn Wyman to the rescue. She offered to bake and photograph these for me. Thanks, Carolyn!  The group shot comes from a previous BiteoftheBest.com post, the close up is hers.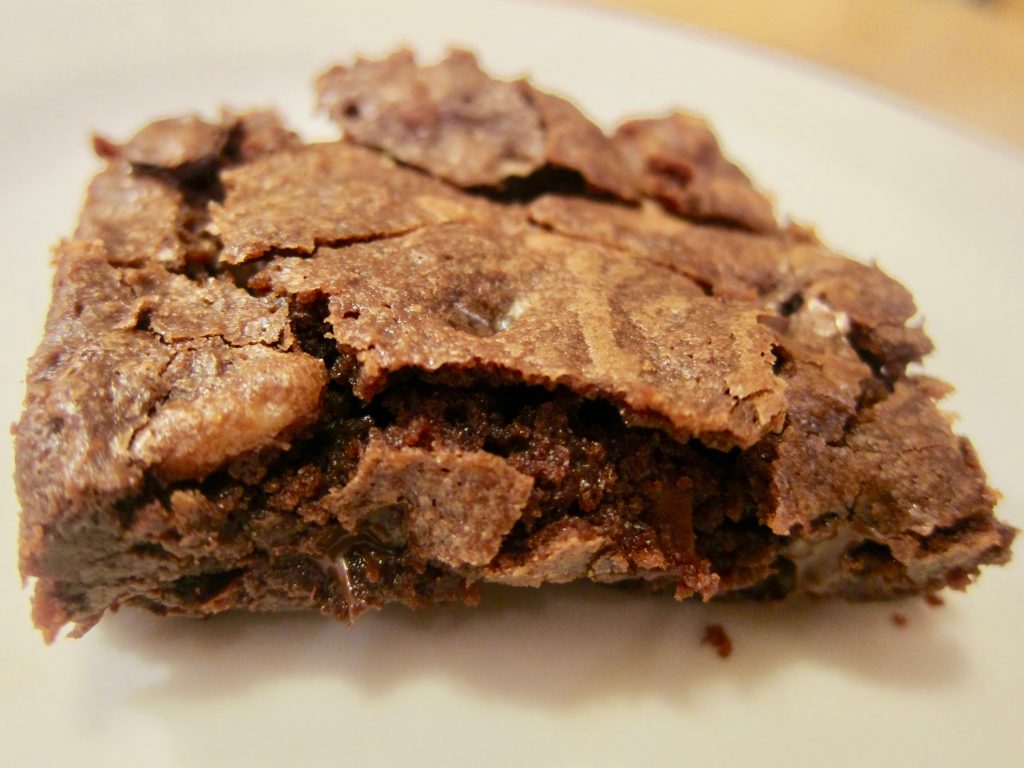 This brownie recipe comes from my cookbook "365 Great Cookies and Brownies" co-authored with Joanne Lamb Hayes. It was based on one from my favorite chocolate chunk and cultured dried buttermilk company, Saco Foods. Their large chunks real, semi-sweet chocolate add pockets of bliss to this recipe. Their buttermilk blend is paramount to the best pancakes. My sons grew up on buttermilk pancakes using their cultured buttermilk blend.
If you can get your hands on some of either product, I highly recommend — as I do these brownies.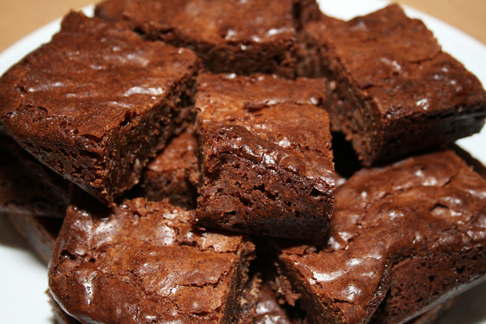 Chocolate Chunk Fudgy Brownies
Makes 24
2 sticks (8 ounces) butter
3/4 cup unsweetened cocoa powder
2 cups granulated sugar
4 eggs, at room temperature
2 tsp vanilla extract
1 cup all-purpose flour
1/2 tsp salt
12 ounces semisweet chocolate chunks
½ cup nuts, chopped (optional)
Preheat oven to 350°F.  Grease one 9 x 13-inch baking pan.
Melt butter over low heat or in the microwave. Scrape into a medium bowl. Add cocoa and stir until well-blended. Mix in sugar; add eggs, one at a time, beating well after each addition. Stir in vanilla, then the flour and salt. Do not overmix. Stir in chocolate chunks and, if using, nuts.
Turn into prepared pan, leveling the surface. Bake 20 to 25 minutes, or until a wooden toothpick inserted near the center comes out with just a few moist crumbs clinging to it. Remove pan to rack. Let cool completely in pan before cutting into 24 bars.