Until this evening's visit, I had only frequented Murphy's in the Virginia/Highland area for Sunday brunch. Loved their basket of fresh muffins and biscuits that accompanied menu offerings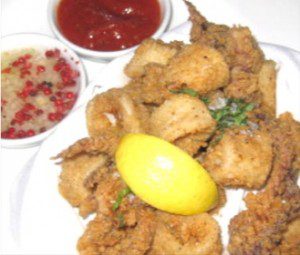 – and their freshly brewed coffee.
Just looking for something light, we just shared a few thing starting with flash-fried tender sweet calamari ($11) . This wasn't served with the typical warm marinara sauce but with two sauces: a cocktail one usually accompanying other shellfish plus  a weird sauce of apple cider vinegar, diced Granny smith apples, garlic and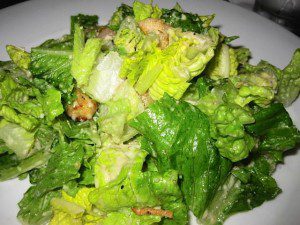 crushed pink peppercorns.
In addition, we split an entree portion of  Murphy's Caesar salad with their crispy shaved onion rings and spicy croutons ($8); and Murphy's perfectly cooked, medium-rare burger, topped with an avocado mayo, Swiss cheese and smoked bacon that came with french fries ($12). No dessert for us, instead we just finished our bottle of Terrazas Argentinean Malbec ($28).
I'd recommend Murphy's for Sunday brunch or for a quick bite
– bonnie
Follow @BonnieBOTB
Murphy's
997 Virginia Ave NE
Atlanta, GA 30306
(404) 872-0904
murphysvh.com