Tuscan pioneer Pino Luongo invited me to his modern Italian trattoria with Mediterranean influences on east 59th when I ran into him at the opening of Alison Ei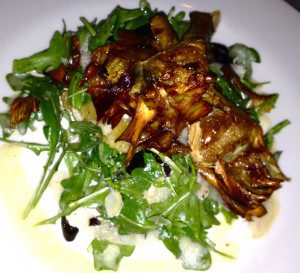 ghteen. Morso is a dining destination, not a place you trip over as it's far east, between First and York. That location will provide spectacular views of the 59th Street Bridge when Morso adds the 65 outdoor seats in April — with, of course, heaters and a pergola to help protect from the elements.
Morso is Italian for small bites, with most dishes offered either Tutto (regular sized) or Morso (a smaller bite, generally two -thirds of Tutto). I liked that option, and so will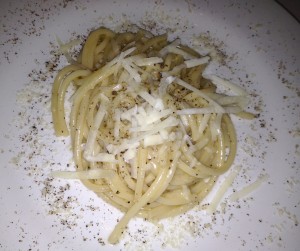 most women I know!
For apps we began with a Carciofi ($16, only in morso), a fried artichoke salad with picked fennel, olives and arugula in a citrus dressing; penne with roasted cauliflower ($15/21); uova – a poached egg with lamb sausage, chicken pea fries and a fontina cheese sauce ($15, only in morso) and my favorite Bucatini ($16/21) pasta tossed with melted butter, a soucon pasta-cooking water, freshly grated pecorini cheese and lots of black pepper. Simplicity at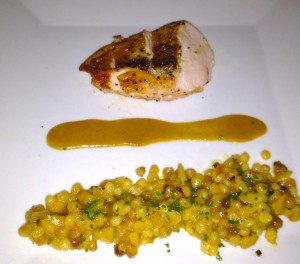 its best.
For entrees, we had the again simple — and worth the trip Pollo ($16/24) —  roasted sliced chicken breast with lemon couscous studded with dried apricots, almonds and apple in a light sauce; Sogliola ($19/26) lemon sole topped with a smidgen of horseradish gremolata, roasted diced veggies, brussels sprout halves all in a light beet vinaigrette; and Capenante ($18/25) sauteed scallops, diced chorizo, black rice, roasted peppers in a limoncello sauce, yet there was so little it was not discernible.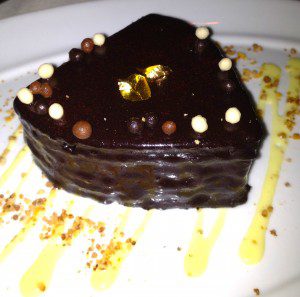 We had no room for dessert, but on insistence from Pino and the chef we sampled a few with the oozing flourless chocolate cake, topped with gold leaf not to be missed. That is if on the menu, as it changes daily!
– bonnie
Follow @BonnieBOTB
Morso
420 E 59th St
(between First and York)
New York, NY 10022
(212) 759-2706
morso-nyc.com