How odd to offer only a non-Spanish Albariño, I thought, but then remembered that Monument Lane served only American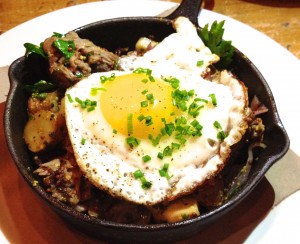 wines. We chose the  Bonny Doon Albariño, 2012, Central Coast, CA ($50) that was a light bodied, fruit forward wine with a bit of minerality.
For appetizers, we selected  the evening's special of a tender roasted goose, fingerling potatoes and root vegetable hash, seasoned with a grainy mustard, served in a mini cast-iron skillet, topped with a fried farm egg ($14).
I again ordered the escarole and black kale salad  ($12) with a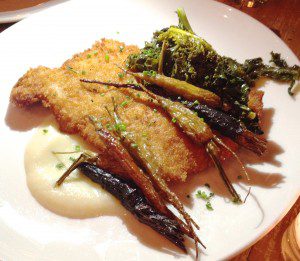 soft egg and American grana; it was better this time as the kitchen served only tender pieces of kale, but again doused the salad with a tad too much garlic-anchovy dressing.
The Heritage Pork schnitzel ($26) was decent, accompanied by braised kale, baby carrots and sitting atop pureed parsnips. A hearty winter dish.
What was tasty but way overpriced was the roasted cauliflower steak ($22) over braised greens, cauliflower puree and garnished with golden raisins. It arrived with a small "steak" looking  more  like an appetizer size portion, with a hefty entree price.  Skip it – unless it's re-priced as an appetizer.
An okay place to dine, a short walk to the Joyce Theatre, a dance performance venue.
– bonnie
Monument Lane
103 Greenwich Ave
(at West 12th)
New York, NY 10014
(212) 255-0155