"A red Sancerre?" I said somewhat bewildered while reading the wine menu at Montmartre. Until that moment, Sancerre connoted Sauvignon Blanc. That night I learned that about Sancerre Rouge — Lucien Crochet: La Croix du Roy from the eastern part of Loire Valley, a Pinot Noir 2008 ($77). It's  a light bodied bright red with some acid, an elegant wine with some earthiness and cherry notes. Our sommelier kept the wine at 50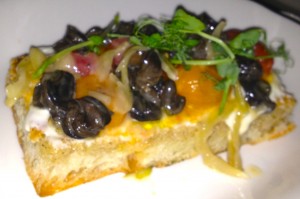 F making it more refreshing for summer, which was the second time in two months that I was served a Pinot Noir chilled. (Last time was at Artisianal sampling the Pays d'Oc IGP wines.)
This bistro first offered mushroom cooked in garlic and onion, then pureed and mixed with ricotta cheese all served with salted radishes along with bread. This was in lieu the more traditional French bistro radish and butter. As the meal continued, we learned that most all chef Tien Ho's offerings were rooted in tradition — something familiar and known — but with twists. Those tweaks come from both American and Asian cuisines.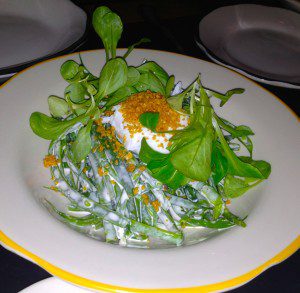 Next we indulged in an unusual dish of tasty Burgundy escargot (snails), marinated heirloom tomato confit and garlic cream cheese on housemade focaccia ($15). And, we consumed an amazingly fresh slivered green bean salad with a poached egg, crispy garlic and dill all in a buttermilk dressing topped with fresh purslane.
The Alaskan king crab legs came with a green Tabasco mayonnaise and the most unusual thin french fries that were salty and sweet, sprinkled with mustard powder, onion power, sugar and salt.  Don't miss the fries, which also came with a mango chutney mayo.
Also not to be missed: the grilled branzino, with broccoli rabe pickled onions in a pine nut vinaigrette ($25), or the unusually flavored roasted cauliflower seasoned with coriander, cumin and other Indian spices, tossed with blanched fava beans, heirloom marinated tomatoes and fried chickpeas ($10).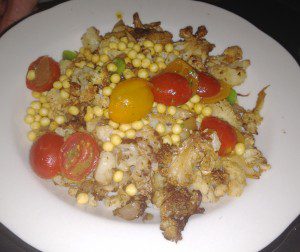 Also good were the meaty sweet monkfish with maitake mushrooms and asparagus in an unusual chorizo viniagrette and the plump mussels in a coconut, chili and cilantro broth ($21). The side of broccoli rabe with chick peas and anchovy was also worthy of trying.
Although we were stuffed, we couldn't resist the rhubarb crumble with lime crème fraiche ($10), a perfect ending to an amazing meal.
– bonnie
Montmartre
Chelsea
158 8th Ave
New York, NY 10011
(646) 596-8838