While holiday shopping, I was craving a burger and fries. I noticed Molly Bloom's, an Irish gastro pub in the Kimball Junction shopping center.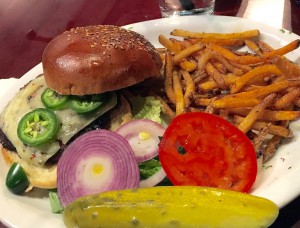 My mouth watered at the menu description of their 1/3-pound burger — made with Niman Ranch beef — that would come topped with pepper Jack cheese, grilled jalapeños, lettuce, tomato, red onion and a pickle with hand-cut fries ($12). I ordered it.
Good thing I wasn't in a rush! With the restaurant half empty I was surprised it took 30 minutes to get me my burger. At lest it was cooked medium rare as I had requested. The jalapeno's weren't grilled at all, just sliced as you can see in the photo. They did rectify this and 10 minutes later brought me a grilled one, once I mentioned it. The fries were a bit oily, but did satisfy my craving.
I'd only recommend Molly Bloom's if you're shopping in the area and not in a rush.
– bonnie
BonnieBOTB
Follow @BonnieBOTB

Molly Bloom's
Park City
1680 Ute Blvd,
Park City, UT 84098
(435) 645-0844