A group of us stopped in at Mission Cantina down the street from Rockwood Music Hall before heading to Rockwood Music Hall on Orchard Street to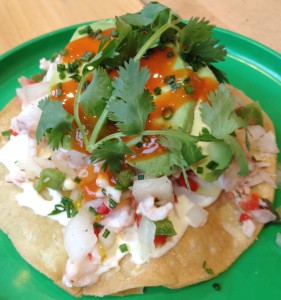 hear singer, songwriter Todd Kramer perform to a sold-out, standing-room-only crowd.
Mission Cantina is Chef Danny Bowien foray into Mexican food. He was best known for his Szechuan food at Mission Chinese that was up the block but is currently closed.
Mission Cantina squeezes many people into the small diner-like space. The lack of ventilation made me realize that comfort of the diners isn't as important to the owners as the food.  It is — though — worth the visit, if you don't mind super-fast delivery of the food, so that they can turn the tables quickly.
The restaurant stone grinds the heirloom corn (after it's been nixtamalized) into masa and then makes fresh delicious corn tortillas that serve as a basis for many of the dishes.
We started with their version of a margarita ($10) rimmed with ground chilies, sans tequila, but made with sujo…as they don't have a full liquor license. I was surprised how refreshing that was – and do recommend.
With that we tried a g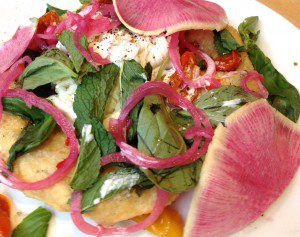 uacamole tostadas — their fresh corn tortilla topped with guac, tomatillo, shredded iceberg, sour cream and fresh cilantro ($8.50).  This was so perfect, we ordered a second. Same with the refreshingly fresh shrimp ceviche tostado ($10.50). I highly recommend both.
We then shared the fresh Oaxaca cheese on top of grilled fry bread sprinkled with lots of fresh herbs ($11) and pickled onions and an order of crisp chicken wings ($12.50), seasoned with a dry rub of mole spices drizzled with a combo of crema, chile vinegar and cotija cheese.
We each followed all that with some tacos, each came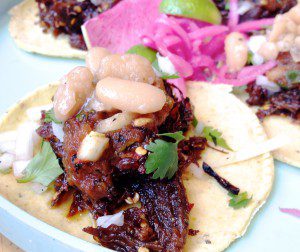 with two small corn tortillas, except the crispy skate wing, baja style ($8) on one large flour tortilla. Some were good others mediocre. For instance, the menu-claimed spy chili-roasted lamb ($7) with cannellini beans was a tad overcooked and not at all spicy. The cheese coated mushroom medley with fried pork rinds was bland.  The apps are what shined here, which is what I'd recommend!
– bonnie
Mission Cantina
Lower East Side
172 Orchard St
New York, NY 10002
(212) 254-2233