I tripped over this Irish-Victorian pub — named after Lillie Langtry — in the Gramercy/Flatiron area late one evening as oddly it was the only area place we found open to get a bite. That night the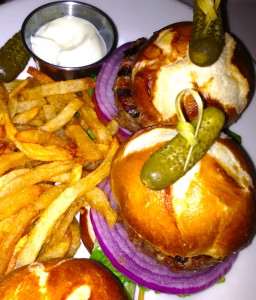 place was crowded, noisy and smelled like a college frat after a keg party.
Without much hope for the food, I ordered the usually safe sliders and fries — even tho the servers description of the specials sounded so inviting.  ("Salmon sliders with pan-seared salmon, cucumber, pickled radish in a dill tartar sauce or special skirt steak salad with roasted tomato, roasted fenneland shaved parmesan over mixed greens, or pan seared red snapper in a lemon-butter-caper sauce with red tomato and red onion compote.")  
My three Angus-beef sliders were cooked to perfection (medium-rare) and served on pretzel buns, topped with a luscious ripe tomato slice and thick red onion with Lillie's hand cut fries $12.
Silly me, having judged this place by the brewery odor, as I learned later from friends that Lillie's food would have been as good as it sounded.  So I do recommend it and will return to try more….just not so late at night!
– bonnie
Lillie's
13 East 17th St
New York, NY 10003
(212) 337-1970