Try this simple recipe from The Italian Vegetable Cookbook by Michele Scicolone (Houghton Mifflin Harcourt, 2014)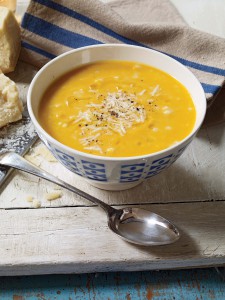 for a yummy winter squash soup. And don't miss our interview with Michele later this month when she'll be our Guest Foodie.
When testing, I baked the squash instead of first peeling and chopping it — as I was in the middle of the BIG MOVE (more about that to come) and had already packed most of my good tools.
In doing so…  I discovered a much easier way to "peel" the squash!  To do the same, prick the whole squash in a few places with a sharp knife, bake at 350 degrees for about 45 to 60 minutes or until soft, let it cool enough to handle, then easily skin, cut in half, remove seeds and fiber, then chop.
Then just continue with the recipe, adding the 2 cups water and either blending, using an immersion blender or a mashing tool.
– bonnie
Milanese Winter Squash Soup
1 1/4 pounds butternut or other winter squash, halved lengthwise, seeded, peeled and chopped (about 5 cups)* (see headnote)
2 cups water
2 cups milk
Salt
1 cup tubetti or ditalini pasta
2 tablespoons butter
3/4 cup grated Grana Padana or Parmigiano Reggiano
In a large saucepan, combine the squash and water and bring to a simmer. Cover and cook for 15 to 20 minutes or until the squash is very tender. Let cool slightly.
Transfer the soup to a blender or food processor in batches and puree until smooth. Return the soup to the saucepan. Whisk in the milk and salt to taste and ring the mixture to a simmer over medium heat. Add the pasta and cook, stirring often so that the pasta does not stick until tender yet firm to the bite, about 10 minutes. Add more water if the soup is too thick.
Stir in the butter and 1/2 cup of the cheese. Taste for seasoning. Serve hot sprinkled with the remaining cheese.
Serves 4