Some folks I met on Coronado said that I must go to Miguel's Cocina as it had the best Mexican food in the country. Hyperbole for sure, but since I was so close to Mexico, I thought the food might be decided. I decided to try it.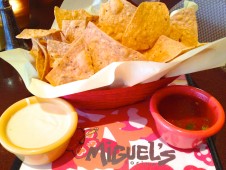 I discovered Miguel's is part of the Brigantine family of restaurants that also includes Brigantine Seafood next door in Coronado and The Steakhouse at Azul in La Jolla.
While looking over the menu the waitress brought out fresh made tortilla chips and two salsas – a creamy fresh hot cheese one and the typical tomato-b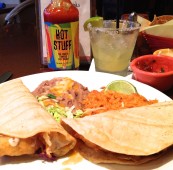 ased one, the salsa fresca. Both amazingly good. So was the house specialty Miguel's ultimate margarita ($10) with centenario "azul" reposado, Cointreau, Brand Marnier and fresh citrus juices.
I should have stopped there as the fish tacos ($9.50)  —  batter-fried fresh pollack in a corn tortilla along with a red cabbage slaw topped with ranch dressing and salsa fresco — was merely plebeian, as were the accompanying rice and re-fried beans.
Not a place to go out of the way for unless you only want chips, salsa and a margarita.
Miguel's Cocina
1351 Orange Ave
Coronado, CA 92118
(619) 437-4237