Bonnie: Cutting boards are a kitchen essential. Before telling you about this flexible one, I must digress as Eric's posting about moving into his apartment sparked memories of starting out in my newlywed's kitchen.
It was a New York City galley kitchen with a window that looked out on a black fire escape. I made the small space workable with a couple of wedding-money-funded splurges: a pegboard I secured to the wall so I could hang my pots, pans and utensils, keeping them an arm-reach away; a portable dishwasher as I loved to entertain and hated doing dishes and a cheap cabinet that I topped with a butcher block to give me storage, counter space and a cutting board.
I'd plan dinner parties frequently so I could teach myself to cook. I'd literally make everything for those gatherings from bread to ice cream. Not only did I learn all about food, but it's also how I had met my neighbor whose window was catty-cornered to mine.
I'd set my baked good on the sill to cool and within moments the aroma of the baking brought her to see what was there.
"Hey, Betty," as she called me. "What did you bake today?" she'd inquire with each new creation waiting at the window for her sampling.
That was a bit more of a detour than I had planned. But that incredibly efficient kitchen and what I learned and created from it was what really started my food career. Oddly, I never did use the butcher block as a cutting board since I didn't want to ruin it. (Saving things to use at a later time is a weird habit of mine that took years to break.)
Back to cutting boards. Flexible ones. I discovered these handy items at a housewares show when looking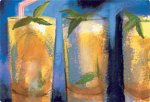 for interesting gadgets to tell Parade readers about. I did try one, thinking they were odd. After all, who'd want to cut on this flimsy-but-attractive purported cutting board?
Turns out I would.
When I've wanted to slice a tomato, chop a tablespoon of parsley or mince a clove of garlic, I've always reached for my flexible board instead of getting one of my many large solid ones dirty. What I really like is how I can fold it like a funnel and add my ingredients to a bowl or sauté pan.
One warning, though: Don't think about tossing it into the dishwasher or you'll ruin it. Instead, just wash it with warm soapy water.
Bryan: This is truly a "must have" product for anybody who spends time in the kitchen; if you have not already seen Magic Slice's flexible cutting boards, you are in for a treat today.
Though I'm not sure exactly why, I actually love cutting boards. It might have something to do with my fascination with knives. (Is there anything more useful than a great knife?) Or it might be a reflection of how a simple, understated cutting slab can add such elegance to a common countertop. Either way, there are three main types of board that I always have in my kitchen: the big slab, the washable plastic and the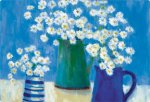 flexible board. The big slab is as much a part of my kitchen decor as it is a functional component of my everyday meal preparations. Though some people will opt for a thick slab of marble to adorn their counters, I have a big wooden butcher block sitting next to my sink. More than an inch thick, this block stands up to any slice, serrate or chop I wish to try. It's easy to clean up and is always ready on the counter when I need it.
My collection of plastic boards sits in the cupboard below; these are mainly for raw meats like chicken or pork. Please note that you will generally want to use a plastic board for all such raw materials; they are easily tossed right into a soapy sink or dishwasher directly after use to avoid cross-contamination.
Finally, there are the flexible boards. Though you will likely find a multitude of companies offering similar products, Magic Slice has hit the mark on all aspects of the flexible board. The product comes in a variety of sizes, my favorites being the "Chef Size" (9.5-inch x 12.5-inch) and the "Gourmet Size" (12-inch x 15-inch). The boards are as flexible as a piece of poster board, making them the perfect tool on which to slice vegetables into a sauté. The board folds into a funnel, allowing easy transfer of materials without loss or dropping. In addition to their flexibility, the Magic Slice cutting boards have a patented "sticky" back that keeps them from sliding around during use — an important aspect for anyone who's ever cut fingers from a "slide-out."
Beyond their incredible utility, these boards come in an array of beautifully artistic designs. They are a joy to keep in the kitchen and may even begin to show up atop your "big slab" for an extra aesthetic lift to your kitchen. Do be aware, though, that these products are not exactly dishwasher safe; you may end up with a rigid, crinkled piece of cutting board art if you're not careful!
Eric: I recently moved to Providence, RI, but before my move I looked at more than 20 apartments, each with distinct characteristics: low ceilings, small closets, grimy showers and even bullet holes – but none of which had an impact on me more than the apartment kitchen.
"This is the room that I spend most time in, this is where I need to feel comfortable," I told myself. I analyzed the angles, the cupboards, the stove and most importantly, the counter space. The counter is king in a chef's kitchen, and space is a necessity when preparing a meal. In the end, after my apartment search was exhausted, I sacrificed counter space for storage space and unique cabinetry woodwork, and I was left in a chef's worst nightmare. But at least I had a gas stove.
Where do I put the toaster? My cooking utensils? My knife block? My dish rack? These were all questions running through my mind as I hesitantly began to set up my kitchen. And as I pulled my giant butcher block out of the box, I sighed and thought, "This is going to be harder than I imagined." My cutting board is my best friend (second, of course, to my girlfriend) and I couldn't imagine not seeing it on the counter every day. I then realized that I had packed a 12-inch x 15-inch Microthin cutting board that I had rarely used, viewing it more as a novelty item. It made sense at the time, as it takes up nearly no space, to leave it on the counter and make use of it as my primary cutting board.
All I need to say is that this flexible piece of plastic not only stood up to my butcher block in terms of durability, but it also doesn't score nearly as much as wood and plastic, and therefore has less chance of retaining bacteria. I will never mock this brand again – and have grown to realize that sometimes big isn't always better (especially with limited counter space).