Michael's Genuine — located in the design district — is not to be missed, especially for brunch.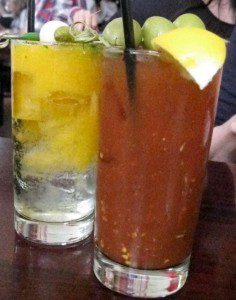 We had to sample both their bloody Marys ($12) — one a "genuine bloody Mary" made using Grey Goose vodka, fresh heirloom yellow tomato puree, fresh horseradish and honey, and the other a more traditional spicy red one. With those libations, we nibbled a house smoked local Kingfish dip with toasted sour dough ($7), while we perused the menu deciding what of the many tasty-sounding items to order.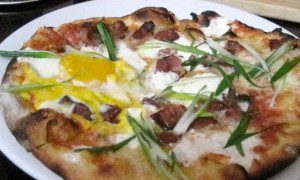 The always changing Sunday brunch menu is full of small plates to share. I liked that. And I liked all the offerings we sampled.
Those included a wood-oven roasted in a ramekin, double yolk (yes, two yolks!) egg, with cave-aged gruyere, roasted tomatoes, chives and a sour dough crostini ($8), a breakfast pizza topped with house smoked bacon, pns farm egg, Monterey Jack cheese and Dean's lila onions ($11) and kimchi benedict ($8) with a toasted crumpet, poached egg, crispy pork belly and kimchi topped with a kimchi hollandaise. I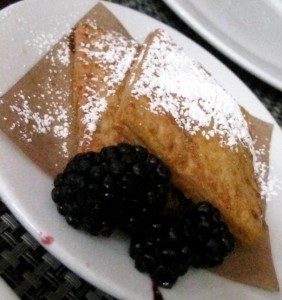 wish I had room for more, as everything was mouth-watering delicious.
Knowing about their pastry chef Hedy Goldsmith's acclaimed pop tarts,  we had to save a bit of room.  Okay, a lot of room – as we indulged in not only her homemade pop-tarts ($6), one filled with local passionfruit, the other with Nutella but also her homemade doughnuts one with local strawberry filling, the other with lemon cream; and delicate lemon ginger scones with honey butter ($5).
This is one place I plan to return over and over again, each time I'm in Miami. Yes, it's that delicious.
– bonnie
Michael's Genuine Food & Drink
130 NE 40th St
Miami, FL 33137
(305) 573-5550
www.michaelsgenuine.com