This recipe is from Family Table by Guest Foodie Michael Romano.
Once in a while, a favorite family meal dish makes the jump to the menu. If it's beloved by a bunch of restaurant professionals, why not share it with the customers? Victor Estrella, a porter at Union Square Cafe, has been serving up this traditional Dominican beef stew at family meal since he came to the Cafe in the early 1990s, and over time it's become part of restaurant lore, an informal entry on the list of standard employee benefits. Now it's part of the weekend brunch menu so that patrons can enjoy it as well.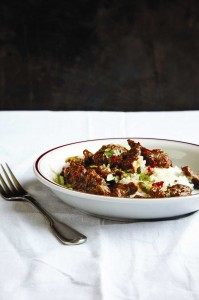 Serve over rice.
Dominican Beef
3 pounds hanger or skirt steak, excess fat trimmed
3 tablespoons olive oil
1 small red onion, sliced
1 small red bell pepper, cored, seeded, and cut into ½-inch-wide slices
4 garlic cloves, thinly sliced
1 tablespoon tomato paste
2 teaspoons kosher salt
½ teaspoon freshly ground black pepper
4 cups housemade chicken stock
½ cup coarsely chopped fresh cilantro
2 scallions, cut into ¼- to ½-inch pieces
3 tablespoons red wine vinegar
Slice the hanger steak into thin strips about 3 inches long and 1/8 inch thick, or slice the skirt steak against the grain into strips about 3 inches long and 1 inch wide.
Heat the oil in a 12-inch skillet or Dutch oven over medium heat. Add the onion, bell pepper, and garlic and cook for 3 to 5 minutes, or until softened. Add the tomato paste, beef, salt, and pepper and cook for 2 to 3 minutes, stirring frequently.
Add the chicken stock and bring to a boil, then lower the heat and simmer gently, uncovered, until the beef is very tender but not falling apart, about 2 hours; if the dish gets too dry, add up to ½ cup water at a time, but no more—you don't want it to be soupy. (The beef can be cooked to this point up to 1 day ahead, cooled, covered, and refrigerated; you may need to add water when reheating.)
Add the cilantro and scallions and cook for 10 minutes. Add the vinegar and cook for 5 minutes longer, then serve.
Makes 6 to 8 servings