Six months after Micheal Romano joined Union Square Cafe (USC) as Executive Chef  The New York Times elevated the restaurant to three stars. Since then, Michael has earned many other accolades, including James Beard awards for "Who's Who of Food and Beverage in America" and "Best Chef: New York," and Food & Wine magazine's "Best New Chef in America." Under his leadership, USC received the #1 ranking on the Zagat Survey Most Popular list an unprecedented nine times.
Today he's busy developing cold-pressed vegetable and fruit juices for Union Square Hospitality Group's latest venture Creative Juice, with five locations in New York City and one in Greenwich, CT.
Bite of the Best recently asked Michael to respond to our guest foodie questions and learned that his interest in Japan comes from his frequent visits there to oversee Union Square Tokyo. 
Which food product would you never give up? These days I love using a product called "Yuzusco". It's basically a version of the Japanese condiment "yuzu-kosho" which resembles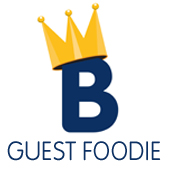 Tabasco in consistency (hence the name). It has the same bracing yuzu citrus flavor and the kick of pepper and can be splashed on just about anything from broccoli to grilled steak with great results. [Note: Available at Asian food specialty stores]
What do you like to serve when you entertain? I really enjoy having people gathered in the kitchen for some pre-meal bites. I'll have my kitchen island set up so that I can be serving things like sushi, fried scallops or shrimp, a baby-artichoke salad, or smoked salmon crostini with avocado, Pecorino and shiso, all prepared a la minute while folks have some sparkling wine or sake.
Describe your "last meal?" I guess it would be my Mom's lasagna, especially if she could be the one to prepare it. I'd pair it with a great red from the Puglia area where my Dad is from, so the whole family would be represented.
What food is your secret guilty pleasure? Tonkatsu! Japanese fried pork cutlets, especially the ones that are made by piling up many layers of very thinly sliced pork loin, sometimes with seasonings like yuzu-kosho in between the layers.
What is your go-to neighborhood restaurant? I consider Maialino in that way, mainly because it has great Italian (Roman) food, and serves breakfast, lunch and dinner. The scrambled eggs with black pepper an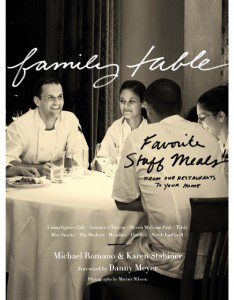 d Pecorino are a must!
What is one food product most people don't know about, but should? See my response to the first question. Actually, the original product, yuzu-kosho, comes in a paste in small jars and is available at Japanese grocery stores in either a red or green version, depending on the type of pepper that is used in conjunction with the yuzu citrus. I prefer the green version. If you try a dollop of the paste on a grilled steak you will be converted forever to a yuzu-kosho fan. Recently I made a citrus cooler–with a kick–by combining fresh lemon juice, honey, red yuzu kosho and yuzu juice with water. Sweet, tart, and bracing!
Which is your favorite staff meal from Family Table? I guess it would have to be the Dominican Beef from USC. I can recall enjoying that dish for many, many years at the restaurant! It's simple to prepare and so deliciously satisfying, especially served with rice and beans.
– bonnie