When dining recently at Untitled at the new Whitney Museum of American Art, executive-chef and director Michael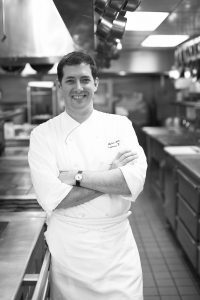 Anthony stopped by the table to say hi.
I had met Mike long ago at the now defunct Bertolli Sous Chef awards. It was in 2001.  I was a judge; he was the first winner with his roulade of chicken stuffed with Swiss chard and mushrooms. That same year he was named one the "Best New Chefs" by Food & Wine magazine. From then on his awards and accolades haven't stopped!
In 2003 under his leadership, Blue Hill at Stone Barns received a three-star review in The New York Times, and in 2005 it received a James Beard Foundation nomination for "Best New Restaurant." In 2006 Mike joined Gramercy Tavern, and the following year The New York Times awarded Gramercy Tavern its second three-star review, while Time Out New York declared Mike "Best New Chef" in New York City. In 2008, Gramercy Tavern earned the James Beard Award for "Outstanding Restaurant." In 2012, Mike  — as Chef-Partner of Gramercy Tavern — won the James Beard Award for "Best Chef in New York City."
And then this year, he won the most prestigious James Beard Foundation Award for "Outstanding Chef" in our country. But even better yet, his three daughters say he's the best chef!
Mike also authored The Gramercy Tavern Cookbook, published by Clarkson Potter. Stay tuned for his Chilled Corn Soup from that book, a tickler recipe from his soon to be published "V is for Vegetables: Inspired Recipes & Techniques for Home Cooks — from Artichokes to Zucchini" (Little, Brown & Company) and our review of the Renzo Piano designed Untitled.
– bonnie
BonnieBOTB

Follow @BonnieBOTB
Which food product or gadget would you never give up? Martin Pouret Red Wine Vinegar from the last company in the Loire Valley that insists on traditional methods of making vinegar
What do you like to serve when you entertain?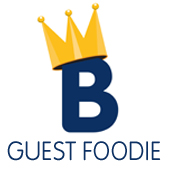 Channing Daughters Ver Vino, which is made here in New York. My brother-in-law is the wine maker. We serve this vermouth in the restaurant with a little splash of strawberry mint syrup and a drop of gin with a little twist of orange.
As for the food, something fish related. Pristine fish from Dock to Dish, simply grilled or lightly baked smothered in summertime ingredients, some raw and some cooked.
Describe your "last meal?" Roasted fairytale eggplant and tomato sushi.  These lavender-colored baby fairytale eggplant with a short 2-month, Northeast growing season, have a non-bitter skin.  I would have a  beautifully caramelized eggplant and tomatoes — some sliced raw and baked, some marinated and seasoned with anise hyssop and basil from the garden. There would be five different kinds of heirloom tomatoes. We're talking something glorious.
What food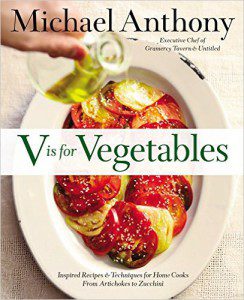 is your secret guilty pleasure? Ice cream, of all sorts
What is your go-to neighborhood restaurant? Kajitsu on 39th between Park and Lexington
What is one food product most people don't know about, but should? Koji — live yeast used for production of vinegar, sake, etc. You can marinade chicken, fish or veggies for great flavor.
Describe your worst kitchen disaster and how (if possible) you saved it: No comment, just a few achy body parts
Who was your most influential mentor? Danny Meyer. He's a creative visionary, an inspiring leader for our industry, and a great friend.
To follow Michael Anthony on Twitter, click here.