There's some disagreement over the actual date that McSorley's Old Ale House in the East Village was founded, but all agree that it was the mid 1800s, and that it's the oldest still existing licensed pub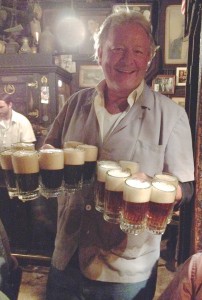 in America.
I was there for the first time in the '70s, when they served whole peanuts and told you to toss the shells onto the floor; today the peanuts are gone and the floor is covered in sawdust. I went recently both before and after attending The New York International Fringe Festival to see Maryclare McCauley's world premier of Switch Back, a solo performance based true story where Maryclare plays seven characters. A truly spellbinding experience not to be missed if she performs it again.
Back to McSorley's. You don't go for the food, nor for the service. What you go for is the experience. There's no menu and what little food is offered is written in white chalk on a blackboard at the bar. Don't ask questions, which is easy as there aren't many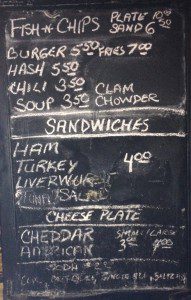 option.
For libations, there's one choice: McSorley's own brew as a pale ale or a dark porter. That's it.  Brendon, our waiter, could easily hold and deliver at least 14 mugs at a time (two per order).
I wouldn't recommend the fried fish and chips, it's overcooked, but the fries are great. Heard the burger was too; will have to sample that on my next visit.
As for vegetarians there's nothing except their "signature" cheese plate with a choice of American or Cheddar, a column of crackers straight from the box and a pile of regular white onions. Plebeian for sure.
You'll never see the bill, Brendon just tells you the total; cash only. (I called to learn that the ales are two for $5.50.)
The best part about McSorley's is fun; lots of fun. So only take people who know how to have a good time.
– bonnie
McSorley's Old Ale House
East Village
15 East 7th Street
New York, NY 10003