Ever since Charlie Marshall, chef at The Marshall, recommended the Southern-inspired Maysville as one of his favorites, it's been on my list to try this American whiskey bar and Southern-inspired restaurant.
I stopped by for lunch with a friend. Because of their focus on whiskeys — they feature over 200 American whiskeys plus a selection of Scotch, Irish, Canadian and Japanese ones — I ordered their Old Smokey cocktail ($14), sort of a smokey old fashioned with Evan Williams Small Batch Bourbon, Vanilla and Smoked Rhubarb Amaro. That was the best part of my visit.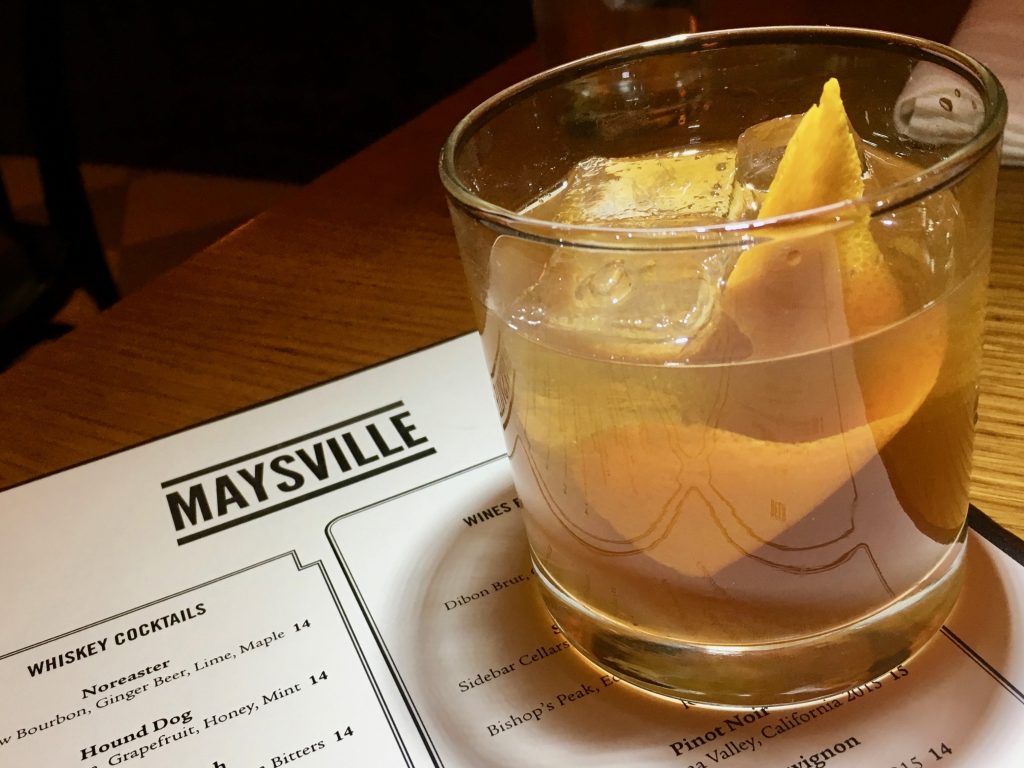 We shared a few items. The best were the four crispy grit croquettes purportedly with smoked ham and aged cheddar ($10 for four); we tasted the cheese, not the ham.
The most disappointing was the tasteless roasted beets ($14) that the menu described as with Kabocha squash (it was all beets), smoked pepper yogurt (none that we tasted) puffed grains and root beer vinaigrette (again not obvious flavor). We asked for salt and pepper to assist the flavor, mentioned to someone who came by to ask how it was and, to their credit, removed it from our bill.
We also shared a smoked chicken salad with mixed greens ($18); do realize the photo is only half a portion. Not bad, but very little non-smoky chicken with crispy chicken skin, diced heirloom apples, lots of sliced rainbow radishes and citrus vinaigrette also in need of salt and pepper.
I'm glad I sampled it. Thanks for the recommendation, but sorry Charlie I won't be returning.
Mayville
Chelsea
17 W. 26th St
New York, NY 10010
(646) 490-8240