Maxwell's is an Italian sports bar in Kimball Junction — a section of Park City — serving East Coast style preparations for reasonable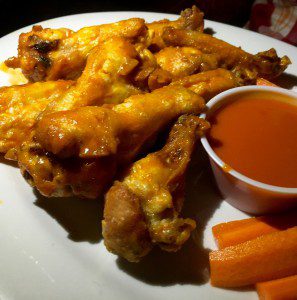 prices, including pizza by the slice.
We sampled the meaty jumbo wings ($12) in a choice of sauces. My nephews had the original spicy Buffalo sauce, with carrots. Celery and bleu cheese sauce are also options, as is ordering the wings boneless. One of my grand-nephews ordered a slice of cheese pizza ($3 ) with his wings; the other ordered their "famous" Philly cheesesteak ($10) on an Amoroso's hearth-baked roll topped with onions, green peppers, cherry peppers and a side of French fries ($.99).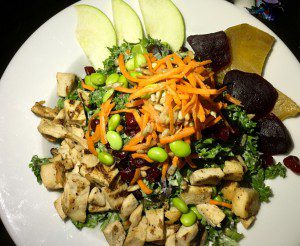 I tried the super Max salad, as it sounded like a healthy option, with kale, other greens, sun-dried cranberries, apple and beet slices, shredded carrots, edamame, roasted sunflower seeds and roasted chicken in a lightly blue cheese vinaigrette ($14.99). A hearty portion of fresh ingredients.
A great place to take the kids.
– bonnie
Maxwell's East Coast Eatery
Kimball Junction
1456 Newpark Blvd
Park City, UT 84098
(435) 647-0304