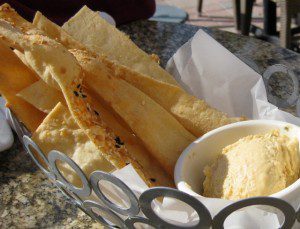 I'm not a snowbird, but after this winter could certainly become one.
So when I met my friend Robin for lunch in January in Boca Raton (FL), I insisted that our nibble be outside. She accommodated.
We stopped at Max's Grille in Minzer Park and made sure our table was in the sun. We nibbled their fresh crispbreads and homemade bean spread while perusing the menu and sipping on a Fini Pino

Grigio ($35).
We then shared a tasty Margherita Pizzette with San Marzano Tomatoes, housemade mozzarella, fresh arugula and garlic oil ($10).  Delicious, crisp, a perfect snack. Glad we had only eaten a smidgen of the bread.
The only disappointment was the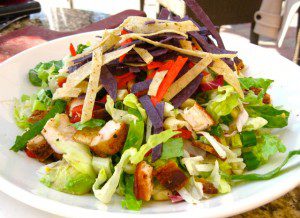 first offering of the Southwestern Cobb salad  with red chili grilled chicken, grilled corn, avocado, bacon, scallion, Monterrey Jack cheese and tortilla strips  all in a Chipotle-lime vinaigrette. Problem was the avocado has spoiled. The waitress didn't make a fuss, just took it and returned with another version sans avocado. Quite tasty and recommendable, once the avocado was removed ($16).
– bonnie
Max's Grille
404 Plaza Real
Boca Raton, FL 33432
561.368.0080
www.maxsgrille.com