Arriving in Seattle late morning after having taken a nonstop from New York, I was starved. I had packed something for the food-less flight, but I needed to sit down for a meal and to get some fresh air.
I checked into the Monaco on Fourth and heading toward Pike Place Market. Instead of going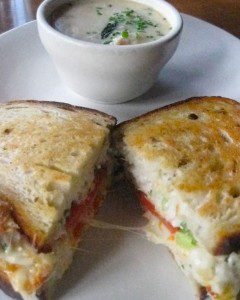 into the market, I climbed two flights of stairs across the street and entered Matt's in the Market a restaurant that originally based its menu on what the owner found at the stalls of Pike Place.
Everything on the menu sounded delicious but I settled on a tuna melt with a small bowl of chowder ($16)
My sandwich consisted of tender olive oil poached St. Jude's albacore tuna, sweet red peppers, melted provolone cheese on grilled potato bread. The fresh chowder contained potatoes, diced bacon, fresh white fish and salmon in a lightly creamed broth. Both perfection, but even in my starved state I couldn't finish the hearty portion.
Note to self: Next time in Seattle be sure to return to Matt's.
Matt's in the Market
94 Pike St
Seattle, WA 98101
206-467-7909
www.mattsinthemarket.com