Mas Farmhouse is located in the West Village nestled on Downing Street – one of those small streets that cabbies often find hard to locate. The word "mas" means country house or farm usually made of stone in the South of France.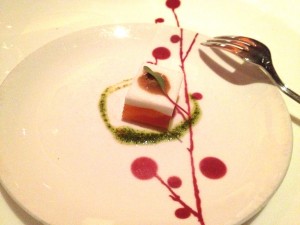 The restaurant serves simple yet elegant food by Bouley-trained chef, Galen Zamarra. The service personnel are attentive, but dressed casually. No uniforms or ultra formality here.
I went recently to celebrate my birthday with a friend. We decided on the tasting menu ($78 pp)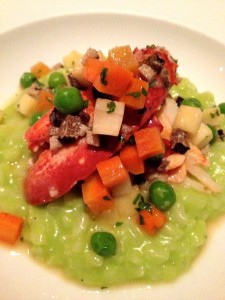 — one app, two half-entree portions and a dessert — that we learned we could create from anything on the menu.
Our refreshing amuse bouche consisted of a terrine of tomatoes and goat cheese with a balsamic vinaigrette that looked as if it were designed to go with the signature dishes.
Next we had huge portion of yellow fin tuna flash-seared in a brown butter, topped with crispy shallots; and heirloom tomatoes atop a rich Parmesan butter crust with caramelized onions and a toasted pinenut dressing.
Our first entrees include delicately fried zucchini blossoms stuffed with three mushroom variations — duxelles, sauteed mustard greens and huitlacoche – with baby spinach, roasted radish and almond foam; and poached lobster over a rich English pea risotto with summer truffles, sliced carrots and parsnips in a lobster-carrot butter. Neither should be missed.
Neither should the wild salmon –  a perfectly cooked portion served with a dill shallot sauce, grilled baby leeks.
My least favorite was the Long Island duck breast, as the seasoning was good, it was just a bit undercooked for me. The accompaniments of braised collard greens and flavorful fresh cranberry beans, though, were superb.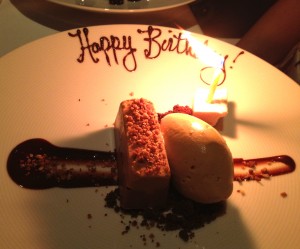 I generally skip dessert so I feel virtuous about my meal, but having ordered the tasting menu  it was included. We dove into a hazelnut-milk chocolate mousse with salted caramel ice cream and chocolate ganache and — my favorite, and the one I'd recommend — poached cherries with an almond dacquoise, cognac ice cream and dark chocolate cream. I highly recommend Mas Farmhouse.
– bonnie
Mas (Farmhouse)
39 Downing Street
New York, NY 10014
(212) 255-1790
www.masfarmhouse.com/