My friend said she wanted to try Mary's Fish Camp in the West Village, so we met there recently. It only has a few tables, and some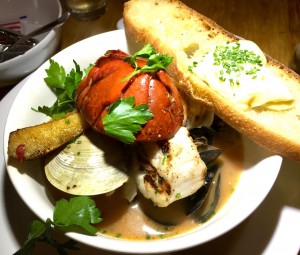 counter seating. So if you decide to try it,  go early as they don't accept reservations.
I tried the red snapper pozole with fresh avocado, sprinkled with hominy ($28) and a side bowl of fresh jalapeños; my friend, the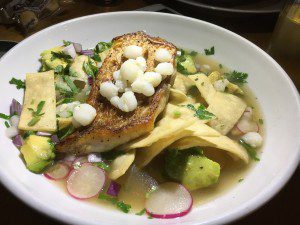 bouillabaisse ($32).  To that we added shoestring crispy fries ($8)  and honey, Siracha and lime Brussels sprouts  ($8) with a covering of crumbed bacon and crispy onions.
The sides were worth going there for; the main dishes — although nicely seasoned — were pricey for what was served. With a serving of Sauvignon Blanc in a small juice glass ($13) plus a non-alcoholic drink ($4) to accompany our food, this meal cost each of us $50 before tip. That said, I would still recommend Mary's Fish Camp if you're in the area and in the mood for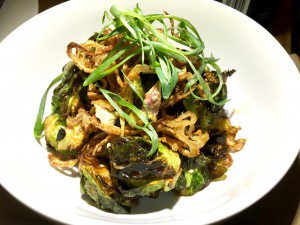 seafood.
– bonnie
BonnieBOTB
Follow @BonnieBOTB

Mary's Fish Camp
64 Charles Street
New York, NY 10014
(646) 486 2185

Save