You may remember Market, the Belgian restaurant, that was on the corner of 14th Street and Ninth Avenue where there's now an Apple Store. In 2007, they lost their lease and moved uptown to their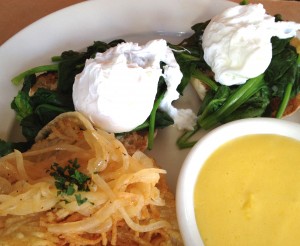 smaller (one-third the size) location on Sixth Avenue on the edge of Chelsea.
We stopped in for brunch as the open-air tables looked inviting. Everything is a la carte, including toast ($2).
Their oeufs Florentine offers a twist on Eggs Benedict with poached eggs on English muffins topped with fresh spinach and a mousseline sauce — Hollandaise made using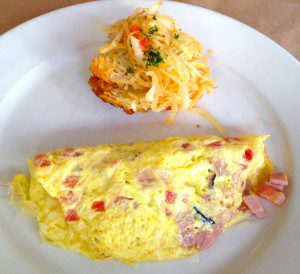 beer ($14).  The omelette au jambon et au fromage is a traditional 2-egg omelet with ham and gruyere ($13). The diced tomato requested, added $1.50 to the tab, the croissant, $2.50. Each entree came with a freshly made, crispy potato patty replete with sauteed onions.
Worth the visit.
– bonnie
Follow @BonnieBOTB
Markt
676 Avenue of the  Americas
New York, NY 10010
(212) 727-3314
marktrestaurant.com