My friend Marge Perry's green shrimp are an ideal appetizer, as you can make them in advance. Before serving be sure to bring to room temperature. Or, serve as a main dish over rice or with pasta.
– bonnie
BonnieBOTB
Follow @BonnieBOTB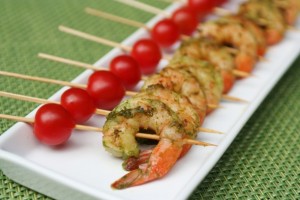 Green Shrimp
1/2 cup cilantro
1/2 cup basil
1/2 cup parsley
1 tablespoon rice vinegar
1/2 teaspoon salt
1/4 teaspoon black pepper
1/2 small jalapeno pepper (or to taste)
3 tablespoons extra virgin olive oil, divided
24 peeled shrimp (about 1 pound)
24 cherry tomatoes
Combine the cilantro, basil, parsley, vinegar, salt, black pepper, jalapeño and 2 tablespoons of the oil in a blender and puree.
Toss 1 tablespoon of the sauce with the shrimp. Heat the remaining 1 tablespoon of oil in a large nonstick skillet over high heat. Add the shrimp in a single layer and cook about 2 minutes per side, or until shrimp just loses its translucency. Remove from the pan.
Thread 1 tomato and one shrimp on each skewer. Pass the remaining sauce for dipping.
Makes 8 servings