An old grammar-school friend came to visit me in the Big Apple recently.  Our day included lunch where we stopped into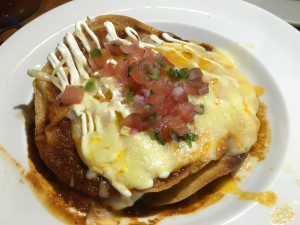 Maple at the Night Hotel for a bite to eat on a Sunday midday before heading to the see the rollicking musical Disaster at the Nederlander Theatre. Silly, fun show with some fabulous singing performances.
I liked my huevos rancheros, one of my favorite breakfasts. Instead of the more-typical heavy dish, this was more delicate with crispy tortillas, two eggs (I requested mine poached), beans, cheese and a dollop of salsa fresco. Totally satisfying choice, although served sans rice or avocado.
My friend had ordered the salmon, prepared as she requested, over pillow-light polenta garnished with a couple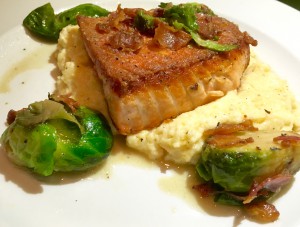 of way too under-cooked Brussels sprouts with diced bacon. Pricing was $29 with all you could drink of either a bloody Mary or mimosa with a 2-hour limit. The watered-down drinks were not nearly as good as the food, but I'd still recommend a stop by pre-theatre.
– bonnie
Maple
Theatre District
157 West 47th Street
(the Night Hotel)
New York, NY 10036
(212) 221-7200