If you haven't tried it yet, head to Manzo Ristorante, the only white tablecloth option in Eataly, the Italian mega market on 23 and Fifth. There you'll find flavorful Italian specialties served by an attentive knowledgeable staff.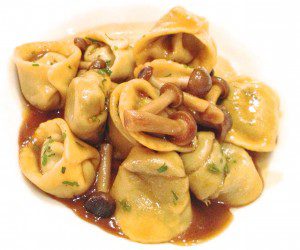 We started with a baby wild arugula salad with sliced of  Parmigiano Reggiano, drizzled with aceto balsamico ($15), and then shared, three primi courses. The Agnolotti with butternut squash, brown butter and sage ($25), the hearty (pictured) tortelloni with braised beef and brown beech mushrooms $20), and my favorite, the gnocchi with a spicy tomato sauce and fresh ricotta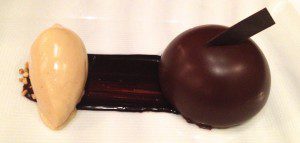 ($19).  I recommend splitting two primi courses with a friend as they are each quite rich and hearty.
If you're a chocolate lover, do not miss the decadent Cioccolato (a three-layered chocolate dome covered in chocolate ganache) with Hazelnut Gelato ($11)!
Manzo Ristorante @ Eataly
200 5th Ave
New York, NY 10010
(212) 229-2180