Although the ingredient list may look a bit daunting at first glance, it just consists of myriad spices that provide all the flavor to the pork.
– bonnie
Follow @BonnieBOTB
"Malaysia is primarily a Muslim country, and the majority of the population does not eat pork, but a large non-Muslim ethnic minority called the Baba-Nyonya revere it," writes Bruce Aidells in his newest cookbook, The Great Meat Cookbook: Everything You Need to Know to Buy and Cook Today's Meat.
"Their cooking shows a strong influence from their Chinese ancestors, who were originally brought to Malaysia to work on the rubber plantations. This marinade is also great on pork back ribs and spareribs, which can then be roasted on the grill or baked. The marinade is equally tasty with lamb breast, lamb shoulder chops, or prime rib bones (beef rib back bones). If you'd like, turn the marinade into a sauce; see Cook's Notes.
"The chops are best marinated overnight."
Malaysian Marinated Blade-End Pork Chops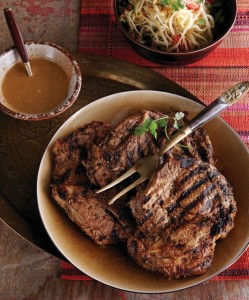 Malaysian Marinade
1 T fennel seeds
2 tsp coriander seeds
1 tsp cumin seeds
8 macadamia nuts
1 jalapeño chile, stemmed, seeded, and finely chopped (optional)
1 fresh lemongrass stalk, tender inner leaves only, minced
1 cup chopped white onions
3 garlic cloves, peeled
2 tsp finely grated lime zest
2 T fresh lime juice
1 T chopped fresh ginger or galangal (see Cook's Notes)
1 T dark brown sugar
1 tsp belacan (see Cook's Notes) or 2 anchovy fillets
⅓ cup soy sauce
1 T Sriracha sauce
1 cup unsweetened coconut milk, stirred well
Six 1½-inch-thick bone-in blade-end pork loin chops (3–4 pounds total)
Garnish: Lime wedges
For the marinade: Heat a small skillet over medium heat and sprinkle in the fennel, coriander and cumin seeds. Shaking the pan continuously, toast the seeds until they are fragrant and just begin to smoke, about 2 minutes. Transfer to a mortar and grind with a pestle into a powder. Add the nuts and continue to grind until the mixture forms a dry paste. Scrape the nut mixture into a blender and add the remaining ingredients. Blend by pulsing until the mixture becomes smooth and homogenous.
Place the chops in a large zipper-lock bag and pour in the marinade. Seal the bag, place the bag in a bowl to catch leaks, and refrigerate overnight, turning and shaking the bag from time to time to redistribute the marinade.
Remove the chops from the marinade, shaking off the excess. Save the marinade if you wish to make a sauce. Let the chops stand at room temperature for 1 hour before grilling.
Set up a charcoal or gas grill for indirect grilling. Place chops on the grill and cook for 2 minutes, taking care not to burn them and moving them if flare-ups occur. Turn and grill on the other side for 2 minutes. Move to the part of the grill with no heat, cover the grill, and cook for 5 to 10 minutes more, or until the chops are firm to the touch, with a faint pink color remaining, and an instant-read thermometer registers 135ºF to 140ºF close to the bone. Remove from the grill. Let rest, loosely covered with aluminum foil, for 5 to 10 minutes before serving. Serve with lime wedges.
Makes 6 servings
Alternative Cuts: Bone-in country-style ribs, blade-end pork loin chops, boneless country-style ribs, or bone-in rib chops; back ribs or spareribs (see headnote); lamb breast, lamb shoulder chops, beef prime rib bones (beef rib back bones).
Cook's Notes
• Fresh galangal looks like ginger but has a distinct taste. It can be found in Asian specialty stores.
• Belacan, made from fermented shrimp, is used in Malaysian and Indonesian cooking. It is known as terasi in Indonesia and mam ruoc in Vietnam. While it has a strong odor and taste, it provides an essential, subtle background flavor in a marinade or sauce. It keeps well in the refrigerator. Anchovies are an adequate substitute.
• To turn the marinade into a sauce, pour it into a small saucepan, add 1 cup canned low-sodium chicken broth, bring to a boil, and reduce until syrupy.
• If you make the marinade sauce, dice the leftover meat and warm it in the sauce to serve over rice. You can extend the recipe by adding some mushrooms, diced zucchini, broccoli florets, or cooked carrots to the meat.